Back to top
Oil Spill Tabletop Exercise in Bogotá, Colombia
MARCH 23, 2018 — On March 14, LCDR Jeffrey Platt, U.S. Coast Guard Office of Marine Environmental Response, and Brandi Todd, OR&R's Scientific Support Coordinator arrived in Bogotá, Colombia to evaluate the Colombian government's tabletop oil spill exercise, utilizing a newly drafted National Contingency Plan.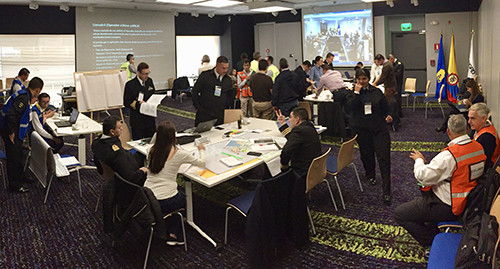 This mission was in support of the Department of State Energy Governance and Capacity Initiative (EGCI). EGCI provides a wide range of technical and capacity building assistance to the host governments of select countries that are on the verge of becoming the world's next generation of oil and gas producers. EGCI's core objective is to help these countries establish the capacity to manage their oil and gas sector resources responsibly.
Colombia's waters of the Caribbean Sea were the focus of the exercise, as this area holds proven reserves of both oil and gas. The Government of Colombia anticipates production activities to commence within the next 8-10 years.
This was NOAA and the Coast Guard's first engagement with Colombia under EGCI. This trip afforded the team the opportunity to meet with the various agencies that have a role in both offshore regulation and oil spill response, as well as evaluate the tabletop exercise. The scenario exercised featured 6,000 barrels of crude oil being released from a sub-sea pipeline and then several hours later a subsequent spill of 5,000 barrels from the same location.
In addition to the NOAA and Coast Guard members, exercise evaluators included representatives from industry (Shell & Oil Spill Response USA Inc.), the Colombian Navy, and the Colombian Maritime Directorate (DIMAR).
For further information, contact Brandi.Todd@noaa.gov.