Back to top
OR&R and National Environmental Satellite, Data, and Information Service on Current and Future Collaborations
MARCH 16, 2018 — On March 8, members of OR&R met with NESDIS oil spill and marine debris analysts in the Satellite Analysis Branch at the NOAA Center for Weather and Climate Prediction in College Park, Maryland, to discuss current and future operational practices.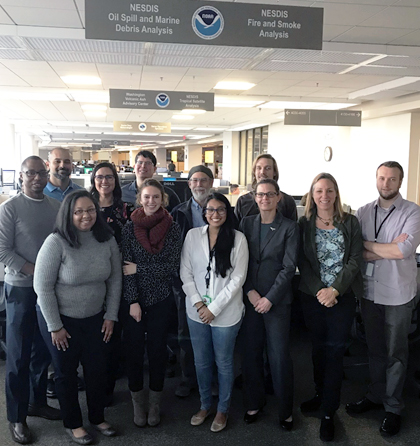 The meeting was organized by Ellen Ramirez of the Satellite Analysis Branch. Ed Levine of OR&R Emergency Response Division gave a presentation on the role of NOAA Scientific Support Coordinators during an oil spill response. The presentation led to a discussion of interactions between the two branches as well as uses for the satellite imagery, points of contact for notifications, future possible uses during drills and training events, and continued outreach and idea sharing. Later, the group was led on a tour of the Satellite Analysis Branch facilities.
The impetus for the meeting was the March initiation of the new web-based distribution of the Marine Pollution Surveillance Report (MPSR).
For further information, contact Ed.Levine@noaa.gov.