Back to top
OR&R at the EcoCanal 2018 Exercise
AUGUST 17, 2018 — The Panama Canal is one of the world's busiest strategic waterways and is of major importance to global transportation, trade, and security. In FY 2017, over 13,000 vessels transited the Panama Canal.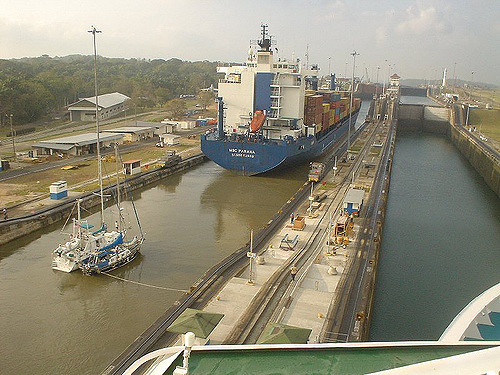 With the completion of three new expanded locks in 2016 (which are 1,200 feet long, 150 feet wide, and 50 feet deep), the Canal is able to accommodate Neopanamax vessels carrying up to 14,000 TEUs (twenty-foot equivalent unit). Because of the key strategic importance of the Canal, the United States has a stake in maintaining its continuous operation. Should an oil spill, hazardous material release, or radiological incident occur in the Panama Canal Operating Area (PCOA), the economic and political effect could be globally profound. The timely transfer of funds from and subsequent delivery of response resources to the Panama Canal when an incident overwhelms the capabilities of the Autoridad del Canal de Panamá [(ACP (Panama Canal Authority)] is of the utmost importance.
OR&R's Ed Levine represented NOAA at the EcoCanal 2018 Exercise, a two-day exercise held this year on August 7 – 9.  The exercise is jointly planned by representatives of the plans being exercised. The exercise is a simulation of a major maritime incident that occurs within the Panama Canal Authority (ACP) area of jurisdiction.
The first day of exercise focused on the notification to the U.S. National Response Center by the ACP. Following the notification, a Unified Command was established and the Unified Commanders assembled for the conduct of an Initial Unified Command Meeting and an Objectives Meeting facilitated by the Planning Section Chief. The decisions made during these meetings were presented to the players when the exercise resumed on the second day.
On day two of the exercise, an Incident Command Post (ICP) was stood up at the Incident Management Center (IMC) at Corozal. The day began with a Command and General Staff Meeting. The response organization responded to the scenario's impacts and coordination of response activities in the Panama Canal. Additionally, the Unified Command conducted a conference call with an Incident Specific U.S. National Response Team (NRT) to brief the situation and request U.S. NRT resources if required.
A joint evaluation team focused on the assessment of the response organization's capabilities, functions, plans and agreements. Incident Command Post (ICP) response personnel actions were actual; movement of other personnel and equipment are simulated.
This was a functional exercise and it tested several components of the Panama Canal Contingency Plans, including but not limited to the establishment of an Incident Management Team (IMT) to guide the mitigation actions, Interaction with the US National Response Team, as well as validating various guides and checklists established for an oil spill and LNG incident.
For further information, contact Ed.Levine@noaa.gov.
View license for photo of ship: CC BY 2.0.