Back to top
OR&R at Interspill 2018
MARCH 23, 2018 — London, England recently hosted the Interspill event on March 13-15, 2018.  This conference is part of the triumvirate series including the International Oil Spill Conference (U.S., 2020) and Spillcon (Australia, 2019).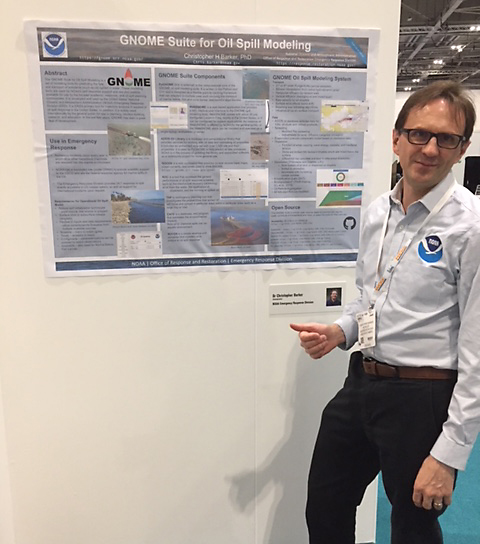 While Interspill attracts a more European attendance, delegates from Asia, Africa, Australia and South America were also present. The Secretary General of the International Maritime Organization (IMO), Kitack Lim, provided remarks at the opening plenary.
Representing NOAA, Dr. Chris Barker from the OR&R's Emergency Response Division (ERD) presented a poster on the progress of the General NOAA Oceanographic Modeling Environment (GNOME) tool redesign.  Mark Dix of ERD offered a platform presentation on case studies and how they are a critical legacy for new spill response industry personnel.
Noteworthy at this conference were panels on dispersants, surveillance techniques, wildlife issues, and other topics. The International Tanker Owners Pollution Federation (celebrating their 50th anniversary this year) relocated the exhibit they had erected at the IMO in downtown London to commemorate 50 years of partnership and advancement since the Torrey Canyon tanker casualty.
The conference attracted over 1,000 delegates.  Following the formal agenda, a meeting of the three conference organizers, IOSC, Interspill, and Spillcon, met to discuss topics of mutual concern to ensure the continued viability of the conference series and draw in new participants. 
Sharing the exhibition floor with Interspill was Oceanology 2018.  Carl Gouldman, Director of the of the U.S. Integrated Ocean Observing System (IOOS) was at this companion conference chairing sessions, as was Dr. Rick Spinrad, formerly of NOAA.
For further information, contact Mark.Dix@noaa.gov.