Back to top
OR&R Participates in 2018 Urban Waters Federal Partnership National Training Workshop
OCTOBER 26, 2018 — Simeon Hahn and Diane Evers attended the 2018 Urban Waters Federal Partnership National Training Workshop held at EPA Headquarters October 17-19.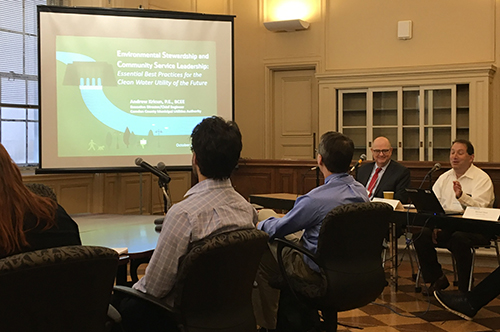 A focus of the workshop was planning for the future of the Partnership including how to address requests for support from new locations looking to join the Partnership. Currently there are 19 urban water locations. In the mid-Atlantic region, NOAA is a lead agency for the Delaware River site (including Philadelphia; Camden, New Jersey; Chester, Pennsylvania; and Wilmington, Delaware), and provides support, primarily through coordination with the Damage Assessment, Remediation and Restoration Program (DARRP), to the Baltimore (Patapsco River) and Washington, D.C. (Anacostia River) locations.
Additional topics at the workshop included leveraging funding sources, public-private partnerships, community engagement, creating parks/open space, resilience, natural disaster planning, water quality and equity,  green jobs and green infrastructure/storm water management, and economic development.
For further information, contact Simeon.Hahan@noaa.gov.