Back to top
OR&R Participates in the 6th Annual Arctic Encounter Symposium (AES)
APRIL 26, 2019 — The 6th Annual Arctic Encounter (AES) Symposium was held in Seattle on April 25 and 26.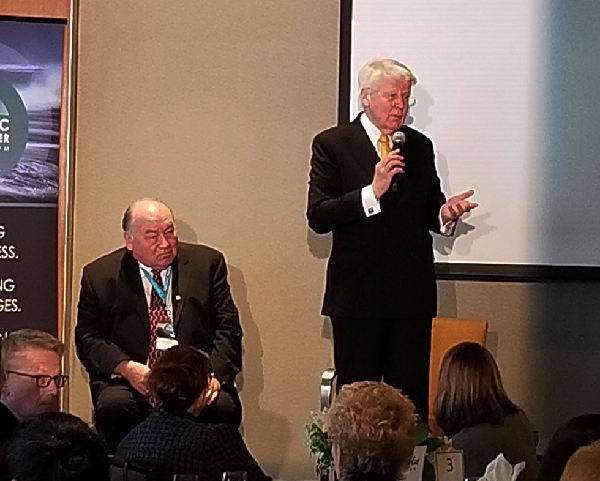 AES is the largest annual Arctic policy and business gathering in the United States, convening national and international policy makers, tribal and indigenous leaders, diplomats, scientists, business leaders, reporters, researchers, and other stakeholders.
Noted speakers included President Olafur Grimsson of Iceland, Premier Robert McCleod of Canada's Northwest Territories, U.S. Senators Lisa Murkowski (Alaska), Patty Murray and Maria Cantwell (Washington), Congressmen Don Young (Alaska) and Rick Larsen (Washington), Lt. Governor of Alaska, Mead Treadwell, former Lt. Governor of Alaska,   Seattle Mayor Jenny Durkan, U.S. Coast Guard Pacific Area Admiral Linda Fagan, and Chief Tizya-Tramm of the Gwitchin tribe in the Yukon.  
Mayors of Anchorage, Northwest Arctic Bureau, Nome, and Tuktoyaktuk, also attended. The governments of Greenland, Russia, Iceland, Finland, and Canada all sent diplomatic representatives. 
For more information, contact Doug.Helton@noaa.gov. 
more images