Back to top
OR&R Participates in Chevron's Mississippi Canyon 122 Response Training and Exercise
MAY 18, 2018 — During the week of May 14, OR&R participated in Chevron's 2018 Emergency Response Training and Exercise held in Covington, Louisiana.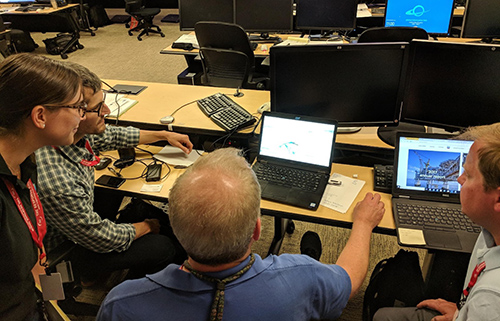 Training and exercise objectives included the evaluation of Unmanned Aerial Systems (UAS) for oil spill response and natural resource damage assessment (NRDA) activities and exercising response capabilities for a worst-case discharge in the Gulf of Mexico.
Chevron's worst-case scenario for offshore drilling operations consists of a release from the Mississippi Canyon 122 (MC 122) facility that would result in a discharge of 465,709 barrels of oil per day. Under this scenario, one would expect impacts to offshore, nearshore, and inshore species and habitats.
Various platforms and sensors were tested as part of the UAS evaluation. The primary objective of incorporating UAS work into the training and drill exercise was to provide field collected imagery acquired in near real-time back to the incident command post to inform response operations.  American Aerospace Technologies Inc. (AATI) and Chevron were able to successfully collect imagery and relay it into NOAA's Environmental Response Management Application (ERMA) and Chevron's Common Operating Picture (COP). The OR&R team also worked with Chevron to test the utility of using an aerostat balloon to inform NRDA recreational use surveys at Fontainebleau State Park. Economists can use the data collected from the aerostat to evaluate this tool as a viable and more economical platform for conducting NRDA recreational use surveys.   
OR&R's Emergency Response Division provided scientific and data management support to the U.S. Coast Guard. OR&R's Assessment and Restoration Division led the coordination with Chevron and the Louisiana Natural Resource Trustees to identify and prioritize resources at risk, identify local expertise and subject matter experts, develop conceptual site models, and prioritize data collection efforts (ephemeral data). ERMA was used as the NRDA Common Operating Picture to depict incident data along with Chevron's Common Operating Picture.
For more information, contact Liza.Hernandez@noaa.gov or Brandi.Todd@noaa.gov.