Back to top
OR&R Participates in the Clean Pacific Conference in Portland, Oregon
JUNE 29, 2018 — On June 19-21, 2018, OR&R staff participated in the 2018 Clean Pacific conference in Portland, Oregon. Clean Pacific is an annual conference of government, tribes, NGOs, and industry experts involved with pollution response.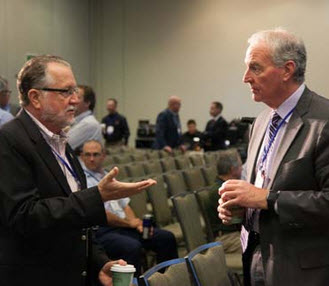 The conference is paired with Clean Gulf 2018, held along the U.S. Gulf coast.  Both conferences focus on emergency response issues relevant to their regions. The Clean Pacific conference focused on training, spill prevention, salvage, and response issues along the West Coast, Alaska, Hawaii, and western Canada, including trans-boundary, inland rail and pipeline response issues, as well as pollution from shipping and marine oil transportation. The conference was held in conjunction with the annual meeting of the Pacific States/British Columbia Oil Spill Task Force, an organization set up in 1989 following the Barge Nestucca oil spill off the Washington coast and the Exxon Valdez oil spill in Alaska, to improve regional coordination of the state and federal agencies involved with pollution prevention and response. Both the 2018 conference and the Pacific States/British Columbia Oil Spill Task Force meeting focused on the growing challenge of abandoned and derelict vessels in the U.S. and Canada. OR&R Staff participated in sessions and panel discussions on a variety of spill related topics. 
For more information, contact Doug.Helton@noaa.gov.