Back to top
OR&R Participates in Disaster Concept Development Study Workshop
JULY 27, 2018 — The Open Geospatial Consortium (OGC) organized its second Disasters Workshop on July 24-25, 2018 at the NOAA Auditorium in Silver Spring, Maryland.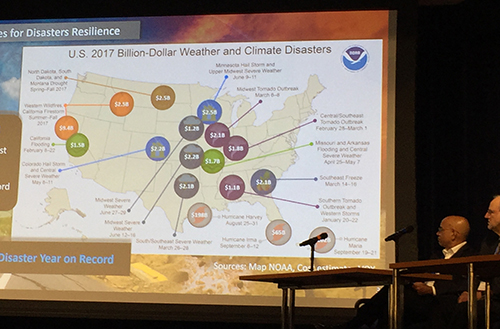 The workshops are being conducted as part of the OGC's Disaster Concept Development Study (CDS) to help assess the current state of data and product management and exchange technologies used in disaster planning, response, and recovery. It was sponsored by the Department of Homeland Security (DHS), the Federal Geographic Data Committee (FGDC), the US Geological Survey (USGS), and other Government agencies. Mary Erickson, Deputy Director of NOAA's National Weather Service, welcomed the nearly one hundred and fifty Federal, State, Local, Academia, and Commercial sector practitioners from the disaster and geospatial response community to join in the discussions.
In 2017 there were 16 major natural disasters within the United States (see NOAA graphic shown in above photo) with costs that exceeded 306 billion dollars (NOAA National Centers for Environmental Information). The OGC and the Disaster workshop sponsors posed the question "Can we save more lives and reduce damages by providing better discovery and access to data that will improve mitigation, preparedness, response, and recovery of disasters?"  To help answer that question the workshop focused on engaging different operational and technical stakeholders to gather and share information on the use of geospatial data and services during natural disasters, including:
Understanding what data, applications, tools, and services stakeholders need;
Understanding what data, applications, tools, and services are available;
Understanding discoverability, accessibility, and usability challenges;
Understanding interoperability challenges and integration opportunities; and
Identifying gaps in data, applications, tools, and services.
 
The knowledge gained from the workshops and the Disaster CDS will shape future activities regarding disaster preparedness & response, and to inform development of potential Disaster Spatial Data Infrastructures (SDI) that support disaster risk reduction across the globe.  OR&R will continue to contribute to the OGC efforts and work to enhance our existing geospatial Environmental Response Management Application and the newly established Disaster Preparedness Program.
For more information please contact Michele.Jacobi@noaa.gov.