Back to top
OR&R Participates in NOAA Science Camp in Seattle
JULY 20, 2018 — "This is LT Helton with the USCG, Sector Puget Sound.  There has been a ship collision off of Shilshole Bay resulting in an oil spill."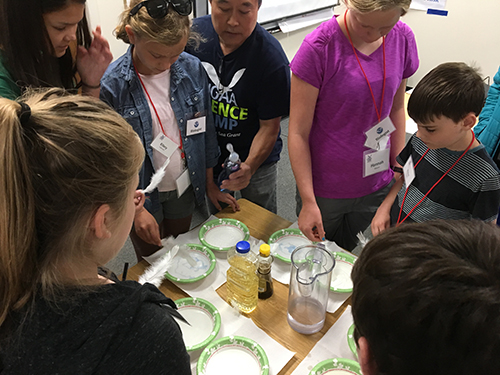 So began the journey for NOAA Science camp participants exploring what scientists from OR&R do during and after an oil spill.
Campers spent time discovering how to respond to typical questions that OR&R's Emergency Response Division oceanographers, biologists, chemists, and physical scientists are expected to answer in the event of a spill.   Questions included: Where will the oil go? How will it behave in and on the water and on different types of
shorelines? What biological and human resources may be at risk during a spill? How might the oil adversely impact these resources?
Campers also spent time with scientists from OR&R's Assessment and Restoration Division where they were introduced to aquatic toxicology, and how pollutants from cars, homes, agriculture, and other types of land uses can move through watersheds and adversely impact the environment. Campers brainstormed methods to prevent, contain, and cleanup pollution, tested water samples for toxic chemicals, and learned how to interpret the data. Later in the week, campers were presented with a science mystery to solve. They visited several NOAA offices to find out more about various aspects of the scenario and then apply what they learned to test their hypotheses. Campers present their findings and conclusions on the last day of camp each week and are evaluated by a scientist representative of each office.
OR&R staff will have hosted approximately 90 campers over a total of ten, two-hour sessions during the two weeks of Science Camp and also will have participated in the scenario exercise and project evaluations.
For further information, contact Nicolle.Rutherford@noaa.gov.