Back to top
OR&R Participates in Plum Beach Cleanup in Brooklyn
OCTOBER 26, 2018 — OR&R staff joined public elementary school students from PS 146 in Brooklyn, NY, for their annual Plum Beach fall cleanup.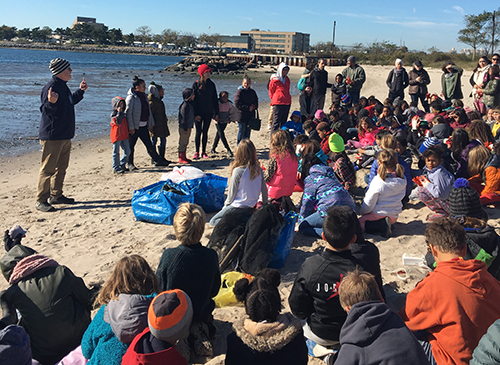 Each year, since 1996, 3rd graders from PS 146 have been taking care of a 200 meter wide section of Plum Beach, located at the mouth of Jamaica Bay in New York Harbor. The students collected marine debris along this section of the beach, sorted and weighed what they collected, and brought it all to a collection point for pick up by the New York City Department of Sanitation. In the spring, as PS 146 3rd graders have done since 2011, these students will return to Plum Beach to plant dune grasses to protect the beach they just cleaned. During this year's cleanup, these 3rd graders collected over 700 pounds of debris.  After working along the beach, the students used a seine net to collect and then observe some of the animals from the waters off Plum Beach before re-releasing them. The students were proud to join the community of PS 146 students who have been protecting Plum Beach for over 20 years and excited to know that they are part of an even broader community of stewards around New York City and throughout the nation working together to protect our shores from marine debris and erosion. 
For further information, contact Reyhan.Mehran@noaa.gov.