Parts of the U.S. Government are closed. However, because the information this site provides is necessary to protect life and property, it will be updated and maintained during the Federal Government shutdown. For critical weather information, please visit
www.weather.gov
. To learn more, see
www.commerce.gov
.
OR&R Presents at NOAA's Environmental Data Management Workshop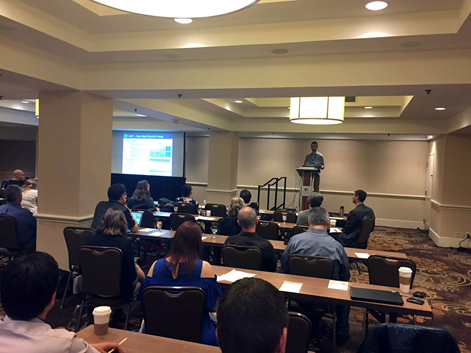 APRIL 27, 2018 — NOAA's Environmental Data Management Workshop (EDMW) was held on April 23-24 in Silver Spring, Maryland. 
The annual workshop was attended by over 200 data producers/ managers, metadata developers, archivists, researchers, grant issuers, policy developers, and program managers from across all of the NOAA Line Offices.  The EDMW helps build upon agency work by providing training, identifying data issues, highlighting progress, fostering cross Line Office discussions, and determining where new technologies can be applied for management of environmental data and information at NOAA. This year's theme was "Improving Discovery, Access, Usability, and Archiving of NOAA Data for Societal Benefit" and the Keynote address was provided by NOAA's new Assistant Secretary for Environmental Observations and Prediction- Dr. Neil Jacobs.  
In addition to help planning the workshop sessions, OR&R staff presented on data governance, integration, visualization, and improving data discovery.  The workshop, which is hosted in conjunction with the Earth Science information Partnership, allowed for remote participation and online access to many of the presentations via the event website. Please take the time to explore presentations by Assessment and Restoration Division and Marine Debris Program staff and various NOAA collaborators throughout NOAA as listed here. OR&R presentations included:
"Integrating Environmental Data for Response and Restoration Using Common Data Models" and "DIVER Application: Accessing Project and Environmental Data and Developing Data Services" by Ben Shorr
"Environmental Response Management Application (ERMA): A Web-Based Geographic Information System (GIS) Application" by Robb Wright
"Data Management for Granting Programs: Observations & Lessons Learned " by Peter Murphy
For more information about NOAA's data efforts please visit the Environmental Data Management Committee website or contact Michele.Jacobi@noaa.gov (Acting NOS EDMC representative and OR&R Data Coordinator)