Back to top
OR&R Provides Shoreline Cleanup and Assessment Techniques (SCAT) Training in Astoria, Oregon
OCTOBER 19, 2018 — Thomas Peltzer, Ruth Yender, Catherine Berg, and Matt Bissell, all Scientific Support Coordinators (SSCs) with OR&R, taught a Shoreline Cleanup and Assessment Techniques (SCAT) training course on October 16 - 18 at the U.S. Coast Guard (USCG) Sector Columbia River Air Station in Astoria, Oregon.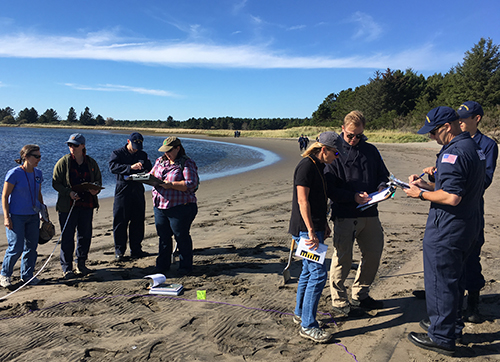 The air station is home to many of the USCG region's pollution responders and incident management personnel.   
Participants included responders from USCG Sectors Puget Sound and Columbia River, Washington State Department of Ecology, Oregon State Department of Environmental Quality, Oregon Department of Fish and Wildlife, and a representative from the confederated Coos, Lower Umpqua and Suislaw tribes in southern Oregon.
The class focused on the standardized field techniques used to assess oiled shoreline as well as recommended cleanup strategies and end points after an incident. Instilling these skills in a new crop of oil spill responders is an important step in maintaining the region's response readiness.              
For further information, contact Matthew.Bissell@noaa.gov.