Back to top
OR&R Scientists and Partners Initiate Major Salmon Injury Study at Portland Harbor Superfund Site
MAY 4, 2018 — In mid-April, OR&R scientists, in collaboration with multiple internal and external partners, completed the field component of a major study to help determine the impacts to Endangered Species Act-listed juvenile Chinook salmon from exposure to contaminants as they out-migrate through the Portland Harbor Superfund Site via the Willamette River.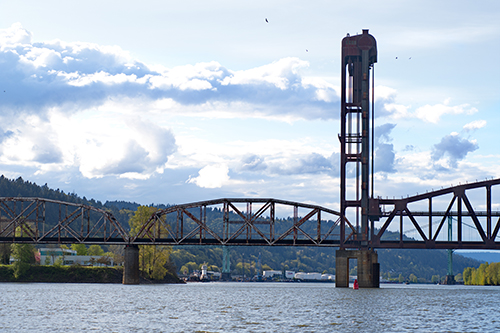 The Site extends from downtown Portland to the Willamette's confluence with the Columbia River.
This work is part of the Natural Resource Damage Assessment (NRDA) being conducted by the Portland Harbor Natural Resource Trustee Council. The council includes five Indian tribes, the State of Oregon, the U.S. Department of the Interior, and NOAA. Juvenile salmon is a key species of interest for the damage assessment. Available scientific evidence indicates juvenile Chinook salmon within Portland Harbor have higher tissue levels of contaminants such as polychlorinated biphenyls (PCBs), polycyclic aromatic hydrocarbons (PAHs), pesticides and other compounds when compared to tissue levels from juvenile Chinook salmon collected upstream of the Superfund Site. Scientists are concerned that exposures to these compounds may be adversely affecting juvenile Chinook as they move through the system. The objectives of this study are, in particular, to update information on the extent to which wild, sub-yearling Willamette River juvenile Chinook stocks are being exposed to contaminants and whether these exposures are impairing growth. If so, the ability of these fish to survive as they enter the lower Columbia River Estuary may be compromised.
The fieldwork was conducted by a team of field biologists, toxicologists, injury assessment specialists, data managers, and field technicians representing a diverse suite of organizations from within and outside of NOAA, including for NOAA: the Northwest Fisheries Science Center, Restoration Center, and Office of General Counsel for Natural Resources, and National Weather Service.  External partners included the U.S. Fish and Wildlife Service, and the U.S. Coast Guard Marine Safety Unit.  Generous access to the U.S. Coast Guard facility for a variety of staging efforts was particularly key to the success of the effort.
Ultimately the data resulting from this study will be carefully analyzed and interpreted in order to understand how these fish may be impacted by exposures to contaminants as they pass through the Superfund Site. An update will be provided when these findings are disseminated. 
For further information, contact Rob Neely at Robert.Neely@noaa.gov.