Back to top
OR&R Senior Scientist Leads Citizen Science Mini-Symposium
OCTOBER 13, 2017—On October 11, Alan Mearns joined a 2017 Puget Sound BirdFest planning committee meeting in Edmonds, Washington, to review the successes and ideas following the September 15-17 Puget Sound Birdfest.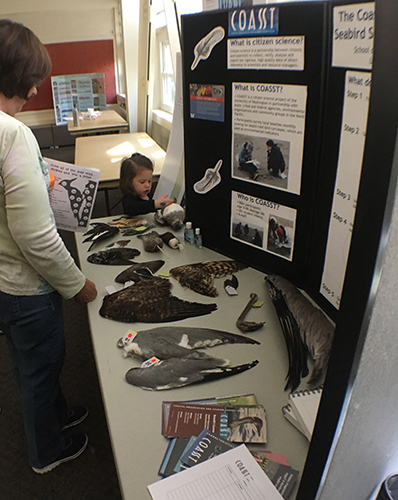 The festival included a Citizen Science mini-symposium organized and chaired by Dr. Mearns. Presentations included Sea Bird hotspots in Puget Sound, monitoring of Pigeon Guillimot colonies on Whidbey Island, the University of Washington COASST (Coastal Observation and Seabird Survey Team) program, and a new citizen program to monitor wetland bird behavior and use of nearby Edmonds Marsh (an OR&R Science of Oil Spills field trip location). Many of the guests were local citizens and families. As elsewhere in the U.S., hundreds of citizens are involved in marine, shore and terrestrial bird counts, monitoring and assessment, producing data that speaks not only to climate change but also resources at risk, including (locally) concerns about oil and coal train traffic near many citizen science survey locations. 500 people (non-scientists) attended Birdfest, and some 50-60 attended the min-symposium and posters. It also provided citizen science leaders a rare opportunity to compare findings and methods. Dr. Mearns encourages OR&R staff to be aware of and consider participating in these kinds of citizen science events going on around North America.
For more information contact Alan.Mearns@noaa.gov.
Photo: Public gets close, hands-on, look at sea birds on display by University of Washington COASST graduate student. Image credit: NOAA.