Back to top
OR&R Senior Scientist Receives NAMEPA Marine Environment Protection Award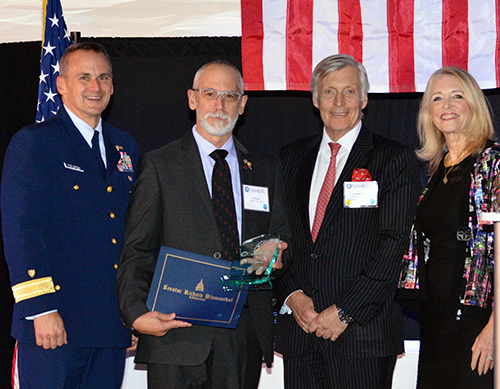 The award was presented on October 26, 2017 at NAMEPA's Decennial Celebration and Awards Dinner--a celebration of NAMEPA's 10-year commitment to "Save Our Seas" and recognize outstanding contributors to that commitment. Established in 2007, NAMEPA is a marine industry-led organization of environmental stewards who work to preserve the marine environment by promoting sustainable marine-industry best practices and educating seafarers, students, and the public about ways to protect ocean, lake, and river resources. The awards event was held aboard the Hornblower Infinity in New York City.
Scott Lundgren, Chief of OR&R's Emergency Response Division, summarized Dr. Mearns achievements in this way: "Dr. Mearns has represented the epitome of what a NOAA scientist should be. Always true to the tenets of objective science, he has tirelessly produced and dispersed scientific information to numerous agency and non-government stakeholders. He stays atop a wide range of scientific literature, and his nimble thinking keeps us testing our assumptions. Alan is truly a scientific resource to the global community and we make environmental decisions differently today as a result of his work."
At the awards event, Regional Operations Supervisor, Ed Levine, accepted the award in person on Dr. Mearns' behalf, and Dr. Mearns accepted the award via video recording. In his brief address, Dr. Mearns explained that understanding the ecology of the sea, and how we adapt to it, is "a life-long, never-ending, collaborative challenge, full of sharp turns and mind-bending discoveries." He accepted the award "in recognition of NOAA's Emergency Response Division staff, and many federal, state, contract, academic, and citizen science colleagues whom he has had the privilege of supporting these many years."
For more information, contact Ed.Levine@noaa.gov or Donna.L.Roberts@noaa.gov.