Back to top
OR&R Staff Spotlight: Naomi Wilkins
Naomi Wilkins is a software developer specializing in web technologies with OR&R. Her role involves a wide range of activities, which is partly why she enjoys it so much!
Her work has encompassed project management and system administration; designing and developing frontend code for OR&R's oil spill modeling software, GNOME; to deploying new server infrastructure. No two days are ever the same, and she loves it.
Naomi learned many of the technical skills that she uses today through Sno-Isle Technical High School in Everett, Washington and several interesting and professionally challenging jobs and internships. She first began learning computer languages and the basics of web and server technology at Sno-Isle, and then landed an internship at a local PR firm where she continued to pick up new languages, programming patterns, and paradigms. As a high-school intern working in a fast-paced PR firm, this role was her transition into the professional workforce and the place where she picked up many of the skills she uses today. Soon she was asked to take on responsibilities she had never shouldered before, with little guidance, which proved to be an excellent way to grow and learn as a developer and person.
After the internship, Naomi joined Expedia as a Deskside Support Technician. Given the size and success of the company, Naomi initially found the job very intimidating. She started as a temporary employee and worked her way up to being an official member of the IT support team. Because the role involved interacting with many people in various social and emotional states, it was demanding intellectually as a repair technician and personally as she empathized with their challenges. Naomi enjoyed the people, the work, and the skills she learned through the role.
Most recently, Naomi worked at a small web development shop named Jordan Crown Design. She was lucky to have a lot of direct work with clients, helping them code websites and other digital products that involved unique customization and functionality. 
All of these roles and experiences make Naomi the experienced, flexible, and proactive team member that she is today.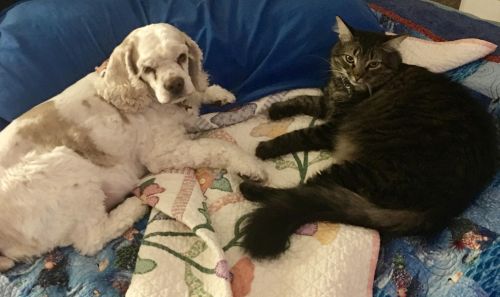 Outside of work, Naomi is the mother of two adorable fur babies, Oliver (a 16 month-old Maine Coon cat) and Eloise (an 8 year-old Cocker Spaniel dog). Naomi enjoys life's small pleasures, like spending time with friends and taking her MINI Cooper out for a drive in the sun.
She occasionally enjoys playing video games, typically indie titles or multiplayer online role-playing games, and is a huge sci fi fan, particularly of shows like Westworld, Humans, and The Expanse.
We at OR&R couldn't do our work without talented developers like Naomi. We're grateful to have her as a part of our team!