Back to top
OR&R Tours Single Point Mooring off Oahu
Jan. 12, 2018 —The NOAA Scientific Support Coordinator for the Pacific Islands joined representatives from the Hawaii State Energy Office and executives from Par Hawaii on January 5 for a tour of the Single Point Mooring off Barbers Point in Oahu, Hawaii.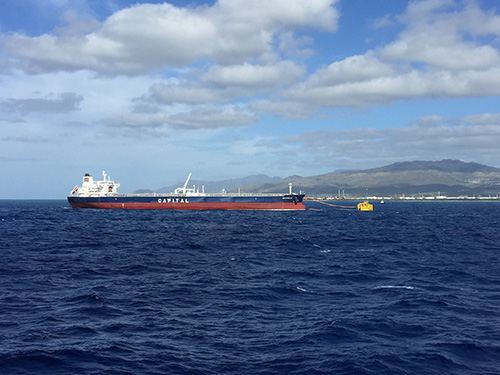 Par Hawaii operates Hawaii's largest oil refinery, located in Kapolei on Oahu, and is the largest supplier of transportation fuels in Hawaii.  The Single Point Mooring terminal is the primary crude oil receipt and product export point for Par Hawaii.  Tankers connect to the Single Point Mooring for transfer to and from three sub-sea pipelines on the sea floor connecting onshore to the refinery.
The group viewed the mooring from the Hawaii Responder, a 210 foot dedicated Oil Spill Response Vessel (OSRV), operated by the Marine Spill Response Corporation.  
For additional information, contact Ruth.Yender@noaa.gov.