Back to top
RADM Gallaudet Visits Qwuloolt Restoration Site in Washington State
FEBRUARY 2, 2018 — NOAA's DARRP program hosted NOAA acting administrator RADM Gallaudet on a field visit to the Qwuloolt Estuary restoration site in Marysville, Washington.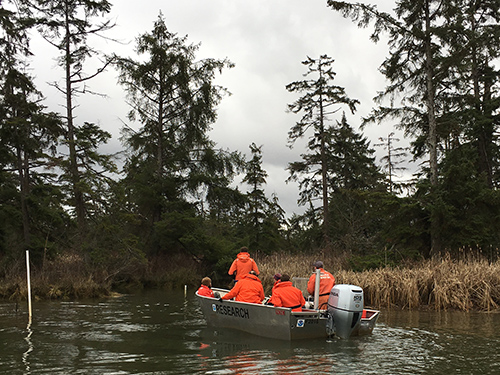 This 350-acre project re-connected former marsh that was diked and drained in the early 20th century.  The restored marsh benefits salmon and wildlife and provides community access via trails.  A Natural Resource Damage claim based on chemical contamination from the Tulalip landfill spearheaded the project, with other funding sources later leveraged to complete the $20 million construction.  Partners included NOAA, U.S. Fish and Wildlife Service, State of Washington, Tulalip Tribe and local communities. 
For further information, contact Rebecca.Hoff@noaa.gov.