Back to top
Science of Chemical Releases Course Conducted for Multiple Audiences from Seattle
JUNE 24, 2019 — During the week of June 17, OR&R staff from the Emergency Response Division and the Gulf of Mexico Disaster Response Center held a four-day Science of Chemical Releases course in Seattle, Washington, at NOAA's Western Regional Center and at the Institute of Ocean Science in Sidney, British Columbia.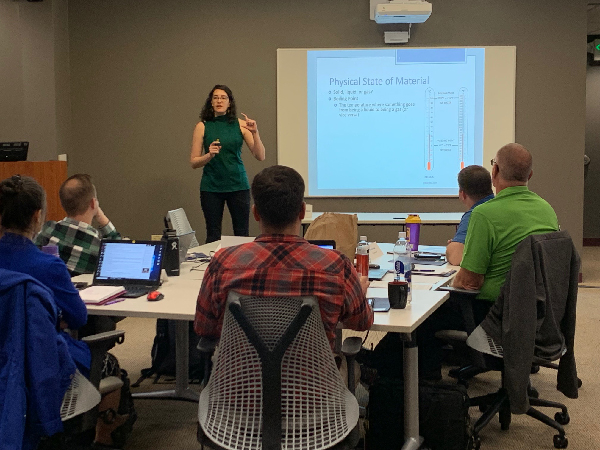 In Seattle, thirty-one students representing local, state, and federal agencies as well as industry partners participated in the Seattle class and nine Canadian Coast Guard students participated remotely via interactive video teleconferencing from a classroom across the U.S. border in Canada. 
Students learned how to take a science-based approach to understanding and responding to chemical emergencies for the purpose of increasing skill knowledge of chemical incidents and OR&R products such as Computer Aided Management of Emergency Operations (CAMEO) as well as understanding uncertainty and risk associated with chemical release incidents.
Special presentations for the week included an air monitoring demonstration by the U.S. Coast Guard Pacific Strike Team and the NOAA Weather Forecast Office in Seattle. Multi-place training activities such as this provide greater opportunity for participation and reduced travel cost.   
Class attendees included members from the U.S. Coast Guard (USCG) from the 5th, 7th, 8th, 9th, 11th, 13th and 17th Districts, USCG National Strike Force, Pacific and Atlantic Strike Teams, USCG IMAT, USCG Training Center and USCG Headquarters.  Other federal agencies represented by students included the Environmental Protection Agency (EPA), Department of Health & Human Services (DHHS), National Oceanic & Atmospheric Administration, (NOAA), and Department of Homeland Security (DHS). New York State Homeland Security, City of Portland (Oregon), Grant County (Oregon) Sheriff's Office, National Response Corporation, Marine Spill Response Corporation and Polaris Applied Sciences also sent students.  
For more information, contact Dalina.Viveros@noaa.gov, Adam.Davis@noaa.gov, Nickie.Scillo@noaa.gov, or Charlie.Henry@noaa.gov.
more images