Back to top
Seepapalooza: International Collaborative Field Demonstration of Natural Oil Seeps off Southern California
NOVEMBER 2, 2018 — On Halloween - Wednesday, October 31, scientists from OR&R participated in a seep oil technology demonstration off of Coal Oil Point near Santa Barbara, California.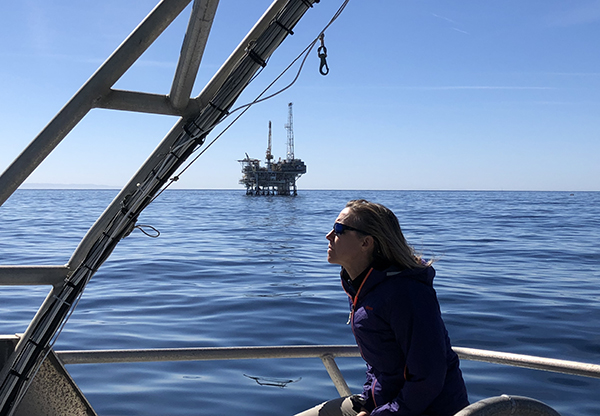 Coal Oil Point area seeps are among the most active in the world releasing an estimated 6,500-7,000 gallons/day.
OR&R joined representatives from California Office of Oil Spill Prevention and Response, Department of Fish and Wildlife, Marine Spill Response Corporation (MSRC), the U.S. Coast Guard, Blue Impact Technology (Norway), Harbo Technology (Israel), Ocean Imaging, Bubbleology, Oil Spill Response Limited (ORSL-United Kingdom) and others to evaluate new mechanical dispersion technology for treatment of floating oil.  This mechanical dispersion was performed by an unmanned surface vehicle (USV) integrated using a high pressure water jet system intended to supplement and/or replace the use of chemical dispersants as an oil spill counter measure. 
In addition to deploying and evaluating the USV, the collaborative field trials evaluated the deployment and use of the light weight, rapid-deployment, disposable Harbo oil spill containment boom.  Dispersed oil monitoring using SMART (Special Monitoring for Alternative Response Technologies) protocols were implemented, and data were also collected using multi spectral remote sensors mounted on aircraft to help characterize the oiling footprint before and after mechanical dispersion to assess the efficacy of the novel technology during the one day field trials. 
For more information contact Lisa.DiPinto@noaa.gov or Jordan.Stout@noaa.gov.