Back to top
Senate Committee Hearing on Pipeline Safety in the Great Lakes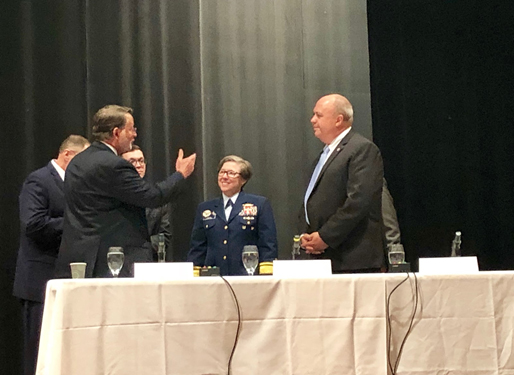 The hearing was held at the Dennos Museum Center at Northwestern Michigan College in Traverse City, Michigan.
The hearing was convened by Senator Gary Peters (D-MI) and panel participants included USCG District 9 Commander, RDML Joanna Nunan; Pipelines and Hazardous Materials Safety Administration Administrator, Howard "Skip" Elliott; Emergency Response Division Chief, Scott Lundgren; as well as representatives from Enbridge, National Wildlife Federation's Great Lakes Regional Center, Michigan Laborers-Employers Cooperation and Education Trust, American Petroleum Institute, and Bell's Brewery. 
The hearing was focused primarily on Enbridge Line 5 which is a 645-mile, 30-inch-diameter pipeline that originates in Superior, Wisconsin, and ends in Sarnia, Ontario, Canada. Where Line 5 travels under the Straits of Mackinac, the pipeline splits into two parallel 20-inch-diameter, lines that cross the Straits west of the Mackinac Bridge for a distance of 4.5 miles. This area is extremely ecologically sensitive and is identified in the Area Contingency Plan as one of the worst case scenarios for the region.
In April 2018, vessel activity in the Straits of Mackinac severed two American Transmission Company electrical cables west of the Line 5 pipelines and resulted in the release of 600 gallons of dielectric fluid. This same incident raised public concern about impacts to the Line 5 pipeline.
OR&R Emergency Response Division Chief Scott Lundgren provided testimony about NOAA's roles in spill response, damage assessment, and interagency coordination and leadership. Describing the tools and resources NOAA brings to provide scientific support in preparation for and during spill events. Mr. Lundgren also highlighted the upcoming updates to the Environmental Sensitivity Index Maps for the Straits of Mackinac and the St. Clair/Detroit River system. 
For further information, contact Michael.E.Doig@noaa.gov.