Back to top
Shoreline Cleanup and Assessment Technique (SCAT) Training Conducted in Pensacola
SEPTEMBER 28, 2018 — From September 17-20, the OR&R and Florida's Fish and Wildlife Commission conducted Shoreline Cleanup and Assessment Technique (SCAT) team member training at the EPA Gulf Ecology Division Laboratory in Pensacola Beach, Florida.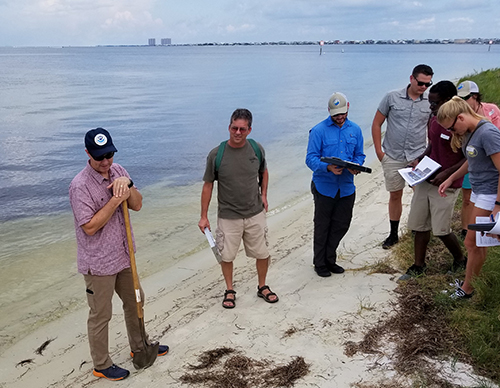 Sixteen participants attended from a number of Florida, Mississippi, other state and local agencies, and the U.S. Coast Guard. The class enjoyed sunny field exercises along the shores of Santa Rosa Island, with opportunities to explore a variety of shorelines and discuss potential impacts and cleanup considerations for oil spills affecting sensitive habitats, amenity beaches, and historic properties. This learning experience helps increase the base of spill readiness for a broad spectrum of stakeholders and agency oil spill responders along the Mississippi, Alabama, and the Florida Gulf Coast.
For more information, contact Adam.Davis@noaa.gov.