Back to top
Shoreline Cleanup Assessment Technique Course in Mackinaw City
AUGUST 10, 2018 — OR&R's Emergency Response Division, in collaboration with the U.S. Coast Guard (USCG), and the U.S. Fish & Wildlife Service (USFWS), conducted a three-day Shoreline Cleanup and Assessment Technique (SCAT) training course in Mackinaw City, Michigan on August 7-9, 2018.
Shoreline Cleanup and Assessment Technique (SCAT) is a systematic method for surveying an affected shoreline after an oil spill. The SCAT method originated during the response to the 1989 Exxon Valdez oil spill, when responders needed a systematic way to document the spill's impacts on many miles of affected shoreline.
SCAT teams systematically survey affected shorelines to generate information needed to:
document the extent and degree of shoreline oiling;
recommend cleanup methods;
evaluate the effectiveness of cleanup methods; and
develop cleanup endpoints and guidelines to determine when cleanup activities should be terminated.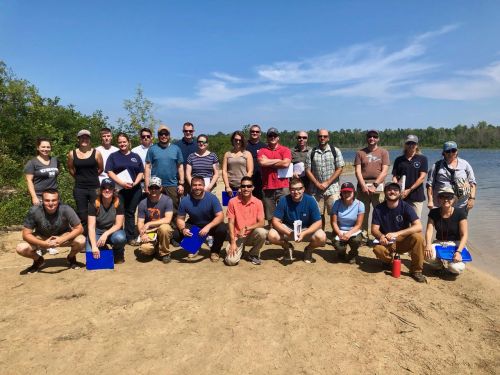 In addition to the classroom lectures and exercises, the instructors and students conducted three field trips to nearby lakes, marshes, and coastlines so that the students could experience the wide diversity of regional habitats and resources and to get hands-on shoreline assessment training. The locations for the field portions of the class were McGulpin Point, French Farm Lake, and Wilderness State Park.
The class included students from the U.S. Coast Guard, NOAA, Michigan Department of Environmental Quality, Michigan Department of Natural Resources, Michigan National Guard, Little Traverse Bay Bands of Odawa Indians, and Industry. Course instructors included NOAA SSCs LT Michael Doig, Catherine Berg, and Ruth Yender; Chris Boring, Robert Jones, TJ Mangoni, and Lisa Williams.
For additional information, contact Michael.E.Doig@noaa.gov.
 
Go back to the OR&R Weekly Report.