Back to top
Site Visit Highlights NOAA Damage Assessment, Remediation, and Restoration Program and Urban Waters Federal Partnership
JUNE 29, 2018 — On June 26, OR&R's mid-Atlantic Regional Resource Coordinator Simeon Hahn conducted site visits for OR&R Director David Westerholm in advance of his attendance at National Response Team meeting in Philadelphia.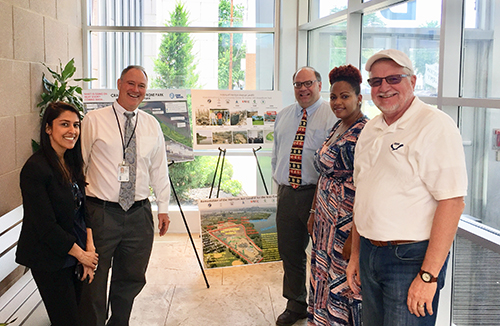 The site visit highlighted NOAA Damage Assessment, Remediation, and Restoration Program (DARRP) and an Urban Waters Federal Partnership project in the Philadelphia area where NOAA is the co-lead sponsoring federal agency. The first stop was the Brandywine River in Wilmington, Delaware, where NOAA partners with the city of Wilmington, the Delaware Department of Natural Resources and Environmental Control, and the non-profit, Old Brandywine Village, working on community redevelopment centered on the Brandywine River in northeast Wilmington. The project includes economic, environmental, transportation, contaminated site cleanup, and environmental justice goals.  A brief was also provided by BrightFields, Inc. on the nationally recognized South Wilmington Wetland Restoration project, a NOAA-sponsored cleanup, and water quality project.  
The second stop was in Camden, New Jersey, where active construction was occurring at the Harrison Avenue Landfill cleanup which will result in over a mile of living shoreline restoration and several acres of tidal wetland restoration, among other amenities such as walking and kayaking trails and other recreational enhancements. The group toured the Salvation Army Kroc Center (community center) which is built on the landfill.  NOAA co-leads the Brownfield effort under the Urban Waters Federal Partnership in strong partnership with New Jersey Department of Environmental Protection.  Previous Natural Resource Damage Assessment (NRDA) settlement funds supported the project as well.  A brief was also provided on Phoenix Park, another living shoreline restoration project in Camden, which previously received support from the NOAA Marine Debris Program.    
The last stop was to Lardner's Point Park in Philadelphia, along the northern Delaware River.  Lardner's Point Park was previously funded under the 2004 Athos I oil spill NRDA and was the first urban living shoreline in the tidal freshwater urban Delaware River. This highly successful project has served as a demonstration project for other locations and was the catalyst and location of the announcement of a nationwide permitting process for future projects.  The final stop was a nearby future living shoreline project area that is being evaluated for an on-going NRDA case in the area.
For further information, contact Simeon.Hahn@noaa.gov.