Back to top
Site Visit at the Raritan Bay Slag Superfund Site in New Jersey
JULY 27, 2018 — On July 19, NOAA's OR&R and NOAA"s Restoration Center along with our state co-trustee, New Jersey Department of Environmental Protection, conducted a site visit of the Raritan Bay Slag Superfund Site.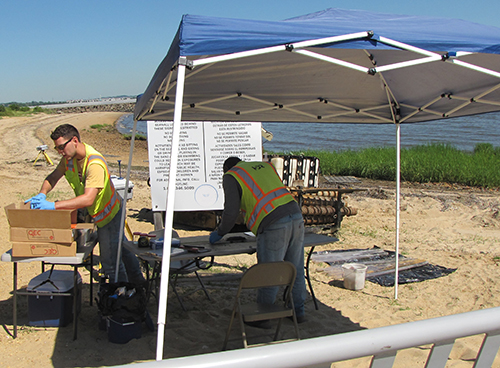 The site was placed on the National Priorities List in 2009 because of elevated concentrations of lead along the shoreline of Raritan Bay at Laurence Harbor.  Local access within a public park and beach front has been restricted because of the contamination. EPA selected a $79 million remedy in 2013 and used federal funds to conduct the cleanup of the uplands and limited areas of a larger wetland that comprise the Margaret's Creek Sector. The cleanup, completed June 2018, removed battery casings, slag, other waste and soils and sediment exceeding 400 ppm lead as well as habitat reconstruction.  The remedial design for the Jetty and Seawall Sectors was initiated in late 2017, also with federal funding, and is on-going.  During our site visit, NOAA and the state examined the reconstructed upland and wetland habitats. The findings from our visit will be considered as we continue to prepare our natural resource damage assessment. 
For further information, contact Lisa.Rosman@noaa.gov.