Back to top
In-situ Burn Workshop for Straits of Mackinac
SEPTEMBER 15, 2017--On August 30, Regional Response Team (RRT) Region 5 held a site specific in-situ burn (ISB) workshop in Mackinaw City, Michigan.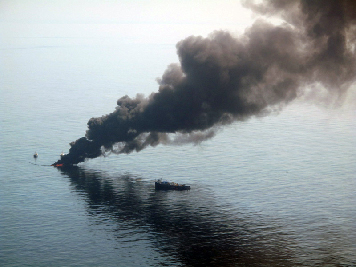 The goal of the workshop was to discuss the feasibility of in-situ burning as a response technique in the Great Lakes region, specifically the Straits of Mackinac.
Participants included federal, state, and local agencies and industry.
Primary issues addressed were:
Environmental conditions at the time of the spill that would be acceptable to allow a burn.
Acquisition of a fire boom for the region and the time needed to deploy the boom in the event of a spill.
Process to receive an emergency declaration from the State of Michigan Governor to use ISB.
Deployment of air monitoring equipment and the levels of concern. 
Impacts on threatened and endangered species in the area, specifically Piping Plover.
Tradeoffs of using ISB versus using other response techniques.
At the conclusion of the meeting, it was agreed that in-situ burning is a viable response option for the scenario that was presented during the meeting. However, there were several follow-up items that needed to be addressed before RRT approval for ISB use for an actual spill.  
For further information, contact Michael.E.Doig@noaa.gov.