Back to top
Slick Research — OR&R Continues to Partner to Enhance Methods for Detecting Floating Oil
APRIL 6, 2018 — During the week of March 26, researchers from OR&R and EPA's Office of Research and Development collaborated with WaterMapping, LLC, and University of South Florida researchers to support a Department of Interior Bureau of Safety and Environmental Enforcement -funded research project focused on system and algorithm development for floating oil and emulsion characterization, using radiometry and a multi-spectral array.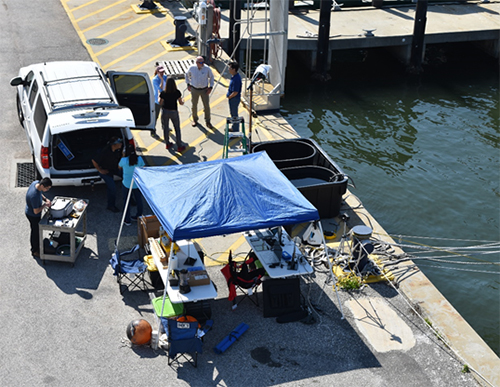 The team set up large outdoor sea water tanks and prepared oil slicks and floating oil emulsions of various oil types, thicknesses, and degrees of weathering to test various oil detection sensors and to prepare for future work at Ohmsett (National Oil Spill Response Research and Renewable Energy Test Facility).  In addition to detection and characterization of floating oil, NOAA is working with the research team to advance our capabilities to conduct faster data intake, processing and data product development in response-operational time frames.  The goal is to have this data available for response and assessment decision making during an actual incident. 
For more information, contact Lisa.DiPinto@noaa.gov or George.Graettinger@noaa.gov.