Back to top
Twenty-Ninth Year of Annual Time Series Photos in Prince William Sound
AUGUST 17, 2018 — During an early morning low tide on Thursday, August 8, Mr. David Janka, Auklet Charter Services, visited Mearns Rock again this year to record images of the famous rock.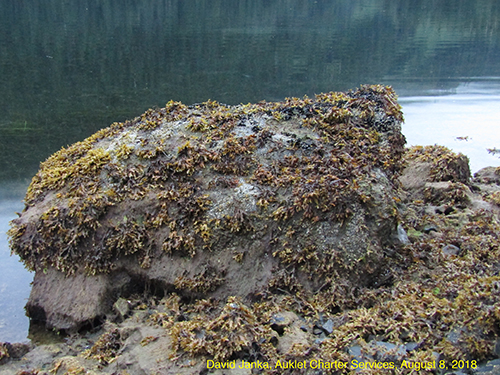 This represents the 29th consecutive year of annual photos of the rock site. The photos are being added to the OR&R/Seattle hallway display of the photos, and also to the "Mearns Rock" pages on the OR&R website.
For three decades following the Exxon Valdez Oil Spill, Emergency Response Division staff scientists and volunteers from Alaska have captured the year-to-year changes of the abundances of conspicuous organisms (seaweeds, mussels, barnacles) at the Mearns Rock site and at several other inter-tidal locations in Prince William Sound. When lined up, the photos visibly document the wide variability and apparent unpredictability of life in the inter-tidal zone. The site was quickly covered with rockweed within two years, followed by a complete absence but a huge cover of mussels. Then the seaweeds returned, and the mussels disappeared for over a decade. Fifteen years later mussels again returned, but didn't stay long. Then, 27 years later they were back. This summer both the rockweed and the mussels have again declined. In this summer's photos we spotted, for the first time, a predatory purple sea star (Pisaster) on the rock...precisely where patches of mussels from the previous year have now disappeared. Overall, during the past three decades, there have been 4 to 7 year episodes of "boom-and-bust" abundance of life on this and other rocky shores, challenging our understanding of "recovery" and what is "normal".
We thank Mr. Janka and other volunteers for visiting this site and sending great photos.
For further information, contact Alan.Mearns@noaa.gov.