Back to top
Unmanned Aircraft Exercise Delivers Near Real-Time Results for Improved Oil Spill Analysis
NOVEMBER 17, 2017 — OR&R participated in an unmanned aircraft system (UAS) exercise with a host of federal, state and private partners in Goleta, California, from October 30 to November 3.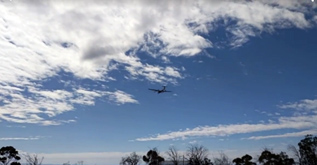 The exercise tested new sensors transmitting imagery in near real time to NOAA's GIS-based mapping application called the Environmental Response Management Application (ERMA) to evaluate our rapid assessment capabilities for oil spills.
Partners included:  Channel Islands National Marine Sanctuaries, California Office of Spill Prevention and Response (Cal OSPR), US Fish and Wildlife Service (USFWS), Chevron, American Aerospace Technologies Incorporated (AATI), and Aerovironment representatives  
Building off of a previous exercise done in 2014, the goal was to test new sensors in hopes of providing increased resolution and the ability to transmit imagery in near real time to ERMA for visualization and rapid assessment of oil without having to wait for landing and data download from onboard hard drives.   These improvements can lead to faster operational decisions for deploying assessment and cleanup activities during an oil spill.
Approximately nine miles offshore of Santa Barbara, the team simulated oil using fluorescein dye and rice hulls deployed from the NOAA R/V Shearwater using a hose and water pump along a predetermined path. The unmanned aircraft (known as JUMP-20) flew at varying altitudes to collect reconnaissance imagery and test the ability to spot oil at higher altitudes and over a wider area of ocean.
For more information, contact Mathew.Dorsey@noaa.gov.