Back to top
Update: Effects of Oil on Wildlife Conference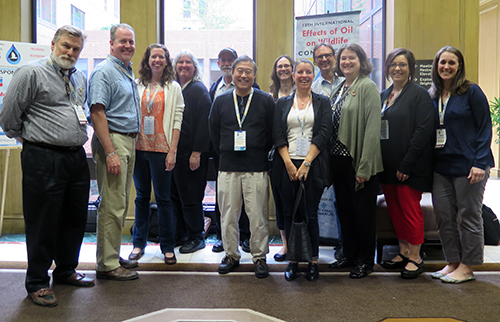 OR&R"s Chris Barker, Steve Lehman, Gary Shigenaka, and Laurie Sullivan kicked off the conference by teaching a four hour pre-conference oil spill modeling workshop. The OR&R presentations included: Chris Barker presenting Oil Spill Modeling for Wildlife Response Planning; Gary Shigenaka presenting The History of Oil Spills during the opening plenary session; and Laurie Sullivan presenting NOAA Guidelines for Assessing Marine Mammals Following Oil Spills.  OR&R also chaired a session and led in 2 roundtable discussions. All of the OR&R attendees spent a productive week learning new wildlife response developments and catching up with partners from the National Marine Fisheries Service, U.S. Fish and Wildlife Service, U.S. Coast Guard and other NGO, academic, and international wildlife responders. The conference was presented by Tri-State Bird Rescue and Research and the Oiled Wildlife Care Network.
See previous week's article for more details. 
For further information, contact Ed.Levine@noaa.gov or Laurie.Sullivan@noaa.gov.