Back to top
Washington Marine Debris Action Plan Workshop in Lacey, Washington
JUNE 8, 2018 — On May 30-31, representatives from federal, state, and tribal agencies, as well as non-governmental organizations, academia, and industry, convened at the beautiful Lacey Community Center in Lacey, Washington for a workshop to complete the Washington Marine Debris Action Plan.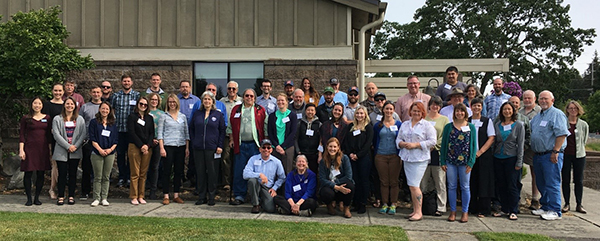 Working in four goal teams: Prevention, Removal, Research, and Coordination, participants reviewed and revised the Action Plan, agreed on its terms, and signed up for specific actions to reduce marine debris in the state and beyond. This event, the second of two workshops, was highly productive, covering a lot of ground. Smoked salmon, shared by the Nisqually Tribe, added a wonderful flavor to a collaborative and pleasant meeting. Following the workshop, the Action Plan document will be revised, reviewed, and finalized. It should be publicly available later this summer.
For more information, please contact Nir.Barnea@noaa.gov.