Back to top
A Weekend's Worth of World Ocean Day in the Northeast
JUNE 17, 2019 — It was a busy weekend celebrating World Ocean Day in New England. The Marine Debris Program's (MDP) Northeast Regional Coordinator, Demi Fox, attended two of the countless events hosted across the region.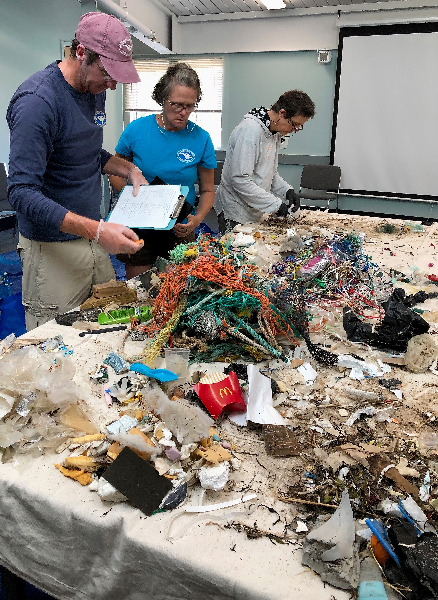 On Saturday, June 8, Ms. Fox traveled to Provincetown, Massachusetts, where MDP grant-funded partners at the Center for Coastal Studies (CCS) held a beach cleanup. For about two hours, 24 volunteers combed the sand for marine debris. They found straws, cups, balloons, cigarette butts, derelict fishing gear (including a lobster trap identification tag that was over 20 years old), and many other man-made items. Following the cleanup, CCS staff and volunteers unfolded large tarps and dumped the collection onto a table for sorting. They separated different categories of debris, logged totals on datasheets, and then found creative ways to reuse or recycle much of the haul. Rigid plastics will be recycled, fishing artifacts are kept for education at CCS, and colorful ropes and balloons were taken by a local artist, Constance, who plans to use the debris to raise awareness.
On Sunday, June 9, Ms. Fox joined colleagues from NOAA Fisheries' Protected Resources Division for the World Ocean Day celebration at the New England Aquarium in Boston. This year's event focused on the elimination of single-use plastics. The NOAA representatives taught guests about plastic pollution and the threats it poses to endangered marine life. They then asked everyone to sign their names on an Atlantic salmon poster, pledging ways they could help protect the ocean.
For many of us, every day is World Ocean Day, but on this annual holiday weekend, we are so happy to see so many engaged in tireless work for marine conservation.
For more information, please contact Demi.Fox@noaa.gov.
more images