Back to top
What Lies Beneath - Bryan Mound Strategic Petroleum Reserve PREP Drill
MARCH 23, 2018 — When you first walk through the Bryan Mound Strategic Petroleum Reserve (SRP) Site in Brazoria County, Texas, what draws the eye is not the security fences and wellhead equipment, but the high quality marshes and bird rookery on the site.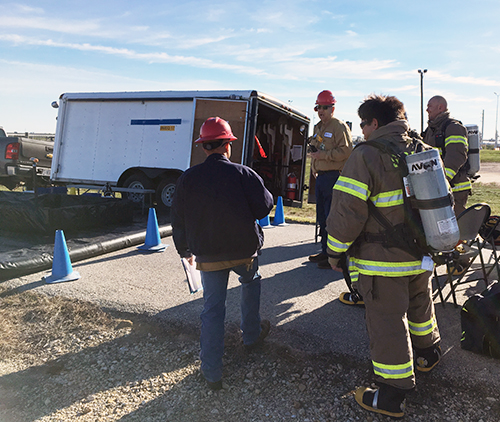 It is hard to imagine that over 200 million barrels of crude oil are stored underneath the site in salt caverns.  Bryan Mound is one of four SRPs, all located on the Gulf Coast within Coast Guard District 8's Area of Responsibility.  Just like an industrial facility, the SRPs must conduct annual PREP exercises.  MSU Texas City personnel, NOAA Scientific Support Coordinator Doelling, and representatives from Texas General Land Office and Brazoria County joined the Department of Energy site staff and associated contractors in playing out a scenario where one of the storage caverns discharged crude oil onto the site, including the marshes and adjacent lake.  First response personnel (HAZMAT-trained firefighters) suited up, and on-site and Oil Spill Removal Organization (OSRO) vessels and booming equipment were deployed in the lake.
For more information contact Paige.Doelling@noaa.gov.