Back to top
Workshop on Long Term Data Management in the Gulf of Mexico
DECEMBER 7, 2018 — The NOAA Damage Assessment, Remediation and Restoration Program (DARRP) sponsored the second in a series of workshops on Long Term Data Management in the Gulf of Mexico on December 4 – 6 at NOAA's Disaster Response Center in Mobile, Alabama.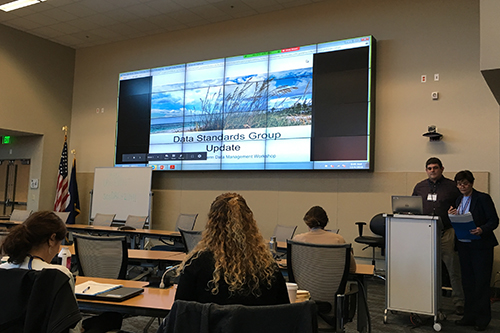 This workshop was facilitated by the University of New Hampshire's Coastal Response Research Center (CRRC) and focused on fostering collaboration, data sharing, and best data management practices among the many groups and efforts to restore and improve the coastal environment in the Gulf of Mexico following the Deepwater Horizon oil spill. Approximately 40 scientists and data managers attended, representing federal and state agencies, regional and non-governmental organizations, and industry.  NOAA scientists from the National Ocean Service, National Marine Fisheries Service, and National Environmental Satellite, Data, and Information Service were active participants.  In preparation for this workshop, three working groups have been working for the past year gathering and analyzing information on data standards, systems inter-operability, and data discovery in the Gulf of Mexico. The workshop materials, action items and next steps for this cross-cutting long term data management effort will be captured in a report and posted to the Long Term Data Management page on the University of New Hampshire CRRC website.
For more information please contact Ben.Shorr@noaa.gov.