Back to top
Yet Another Record in OR&R!
Jan. 5, 2018 — During fiscal year 2017, OR&R set a new record, responding to 205 oil/chemical spills and other emergency incidents, exceeding its previous record of 201 responses in fiscal year 2009.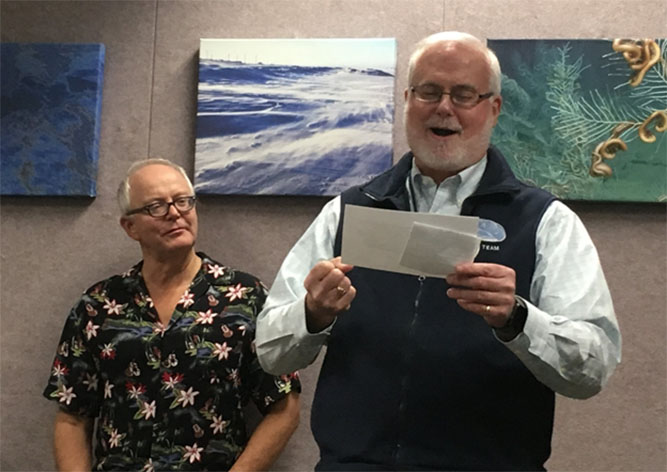 Within the Office, we've set another record—retirement of three scientists within one week! From OR&R's Emergency Response Division, we said good-bye and best wishes to Mark Miller and Jerry Muhasky. From OR&R's Assessment and Restoration Division, we saluted Alyce Fritz.
Mark Miller, Development Supervisor, Technical and Scientific Services Branch
Mark Miller served nearly 29 years in OR&R's Emergency Response Division (ERD) and is retiring from an ERD management role leading a team of software and environmental product developers who incorporate scientific findings into ERD's emergency response operational tools.
Mark joined ERD just before the Exxon Valdez oil spill and has supported hundreds of emergency responses, playing roles from field observer to NOAA science liaison for the National Incident Command during the Deepwater Horizon spill. Leadership of ERD's chemical preparedness and response software—the joint EPA/NOAA CAMEO® suite—has been a major role for Mark and one that has grown substantially under his congenial, consistent, and results-oriented leadership. He was the champion of recent major upgrades to the public-safety and first responder focused CAMEO suite, prompted by a chemical facility safety Executive Order. That software now receives nearly 200,000 downloads per year and the associated online CAMEO Chemicals site was visited by 3.5 million visitors in 2017. A recently introduced CAMEO Chemicals mobile app has now become the most popular NOAA mobile app, achieving the most downloads both by month and overall.
Mark also served for the past two years as the NOAA Co-Director of the joint NOAA-UNH Coastal Response Research Center, coordinating the important workshops, research, and work products delivered by this NOAA grantee.
We wish Mark the best in a retirement filled with travel and time with extended family!
Jerry Muhasky, Senior Developer, Technical and Scientific Services Branch
As a lead developer in ERD's software development group, Jerry Muhasky's work is present in nearly every software tool that ERD has built in the last 27 years. Renowned for his wizardry in coding and trouble-shooting software, the world-class array of tools offered by ERD today is testament to Jerry's intellectual prowess and dedication.
Jerry's participation in the response side of spills and incidents was often to customize the software tools while they were still in use. He displayed this incredible talent in spades during the Deepwater Horizon spill when he re-engineered aspects of the GNOME trajectory model to meet specific incident needs. His work as part of the "home team" was indispensable and done without fanfare; when the project was in his hands, it got done. In one brutal push, Jerry worked every calendar day from Thanksgiving 2000 to New Year's Day in 2001 in order to make the release date of CAMEOfm.
Jerry's collaborative nature, humor, and infectious optimism have made him the glue that binds together the team and technical work of ERD. His enthusiasm and drive will be sorely missed! We say "Aloha" to Jerry and wish him the best in his retirement.
Alyce Fritz, Branch Chief, ARD NE Region
A dedicated public servant, Alyce Fritz has had a remarkable NOAA career and became a mainstay of ARD, OR&R, and its predecessors, contributing much to its programs and people.
Alyce was the first Coastal Resource Coordinator (CRC) in Region 3 and defined the role for future CRCs. She developed the Coastal Protection and Restoration Division (CPRD) and led it through its duration. Alyce was instrumental in the formation of OR&R and the integration of CPRD and the former Damage Assessment Center that together became ARD. While in ARD, Alyce headed the NE Branch and gave her time and her talent for "numbers" to the Deepwater Horizon budget and contract management.
Because she strongly believed in our mission, she committed herself fully over the years, and willingly took on different roles to do whatever was needed to support the organization. We thank and congratulate Alyce on an outstanding career!
These three outstanding OR&R employees represent about a century of collective OR&R experience. We wish Mark, Jerry, and Alyce well in their well-deserved retirements!
For additional information, contact Mark.Dix@noaa.gov.