Oil Spill Assessment and Restoration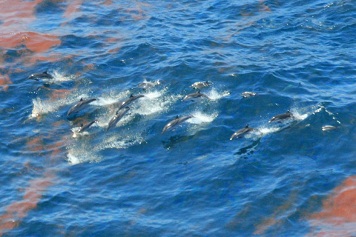 Oil spills—some large, some very small—occur in the U.S. all too often. NOAA's Office of Response and Restoration (OR&R) responds to up to 150 oil spills nationwide each year. The Deepwater Horizon oil spill in the Gulf of Mexico in 2010 is an example of the extent of environmental and economic damage an oil spill can cause and shows how important a healthy environment is for a sound economy.
NOAA's OR&R is the nation's leader in environmental response, assessment, and restoration following oil spills in coastal waters. For more than 20 years, NOAA has worked cooperatively with co-trustees and responsible parties to assess and restore injured habitats after oil spills. Restoring natural resources invests in communities by creating construction jobs for local economies and better opportunities for residents and visitors to access and enjoy the marine environment.
What is a Natural Resource Damage Assessment?
The Oil Pollution Act of 1990 provides for a Natural Resource Damage Assessment (NRDA) determine the type and amount of restoration needed to compensate the public for harm to natural resources as a result of an oil spill. NOAA developed the Damage Assessment, Remediation and Restoration Program (DARRP) to carry out the NRDA process. The Office of Response and Restoration is a central component of DARRP. The party responsible for spilling the oil is held financially accountable for the cost of assessing and restoring the environment. Please visit DARRP for information related to NRDA for specific oil spills.
How Does NOAA Conduct a Natural Resource Damage Assessment?
Working with multiple state and federal agencies, NOAA serves as a trustee to assess and restore injuries to coastal and marine natural resources, including marine and migratory fish, endangered species, marine mammals, and their habitats. To conduct an NRDA, teams of scientists, economists, restoration experts, and attorneys:
Determine what parts of the marine environment were injured by the oil.
Design sampling plans to conduct efficient data collection.
Collect data to assist with cleanup and assess threats and injuries to natural resources.
Quantify damage to the environment and lost public uses.
Develop a restoration plan to offset impacts and public losses.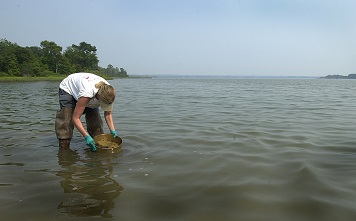 What Happens When the Natural Resource Damage Assessment is Completed?
Once the damage to the aquatic environment is known, NOAA's Damage Assessment, Remediation and Restoration Program determines the best habitat restoration practices. The program then translates them into projects aimed at returning the environment to the condition it was in before the oil spill. Examples of common environmental restoration projects include:
Wetland creation.
Oyster plantings.
Dam removals.
Coral reconstruction.
Shoreline improvements.
An oil spill can also restrict the public's use of affected areas, and in order to compensate for this loss of use, the NRDA process can lead to projects that improve access to the water and other resources, such as the construction of boat ramps and fishing piers.