Observers' Guide to Sea Ice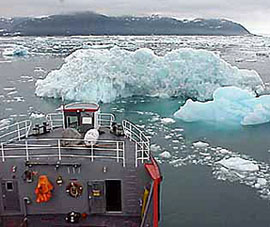 Small berg viewed from ship
This is the online version of a job aid designed for volunteers who report aerial, shipboard, or shoreline observations of ice conditions at sea to authorities such as the National Weather Service, National Ice Center, U.S. Coast Guard, pilots associations, port authorities, or other maritime interests. In the job aid, emphasis is on conditions of concern to mariners with regard to safe passage of ships.
View and Print the Job Aid: Observers' Guide to Sea Ice [PDF, 2.7 MB]
Order a Copy: You can ask to have a free copy of the print job aid mailed to you by contacting our Photos and Orders Specialist by email or by phone (206.526.6558) (One copy per request, please).
More Information about Sea Ice
Ship-based Sea and Lake Ice Observing: Ships operating in areas with ice are expected to report conditions as part of standard weather reporting procedures. This 2.5-hour lesson, produced by The COMET® Program, begins with background information on ice, addressing such topics as where it is found, how it develops, and how to observe and report it. The lesson's scenarios simulate the experience of being an ice observer in four situations and locations.
Shrinking Sea Ice: Watch this three-part video series from NOAA's Ocean Today about the role of ice in our ocean:
Marine Ice Atlas for Cook Inlet, Alaska: [Enter "Marine Ice Atlas for Cook Inlet, Alaska" in the search box.] A compilation of previously published and unpublished information on the climatic, meteorological, oceanographic, and hydrodynamic conditions that influence the marine ice cover in Cook Inlet. Published by the U.S. Army Cold Regions Research and Engineering Laboratory (CRREL).
More Information about Job Aids
Job Aids for Spill Response: Learn more about the job aids that OR&R has created to help oil spill responders complete their response tasks.