10 Unexpected Reasons to Join This Year's International Coastal Cleanup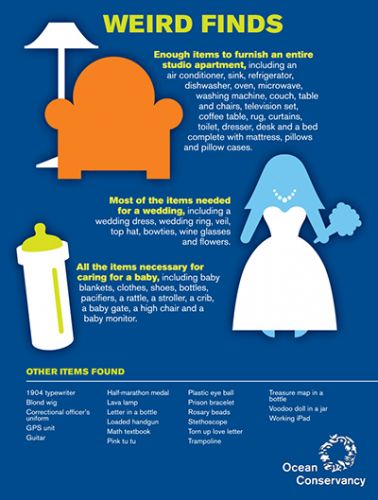 SEPTEMBER 15, 2014 -- There are plenty of obvious reasons to join the more than half a million other volunteers picking up trash during this year's International Coastal Cleanup on Saturday, September 20, 2014. Keeping our beaches clean and beautiful. Preventing sea turtles and other marine life from eating plastic. Not adding to the size of the garbage patches. But just in case you're looking for a few less obvious incentives, here are 10 more reasons to sign up to cleanup. After this one day of cleaning up trash on beaches across the world, you could:
Furnish a studio apartment (fridge, TV, complete bed set? Check).
Get ready for an upcoming wedding with the wedding dress and veil, top hat, and bowties that have turned up in the past.
Outfit a baby (including clothes, bottles, high chairs, and baby monitor).
Make friends with the 200,000+ others participating in the United States.
Get some exercise (and fresh air). In 2013, U.S. volunteers cleaned up 8,322 miles of shoreline.
Create a massive marine debris mosaic mural with the nearly 2.3 million, less-than-an-inch long pieces of plastic, foam, and glass found on beaches worldwide.
Stock up the entire United States with enough fireworks to celebrate Fourth of July (and then organize a Fifth of July cleanup).
Help you and your neighbors benefit millions of dollars by keeping your local beaches spic-and-span.
The NOAA Marine Debris Program is a proud sponsor of the International Coastal Cleanup and we'll be right there pitching in too. Last year NOAA volunteers across the nation helped clean up more than 1,000 pounds of debris from our Great Lakes, ocean, and waterways in Washington, D.C.; Alabama; Washington; Oregon; California; and Hawaii. Join us on Saturday, September 20 from 9:00 a.m. to noon and help keep our seas free of trash with any one (or all) of these 10 easy steps: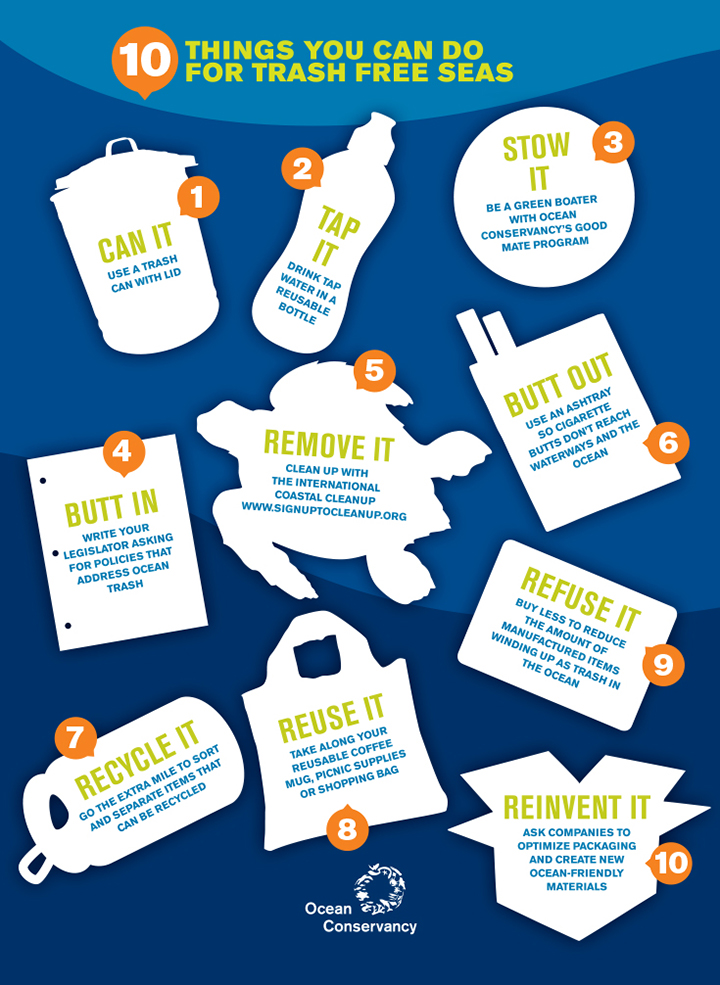 10 things you can do for trash-free seas. Credit: Ocean Conservancy
You can find more trashy facts in the Ocean Conservancy's 2014 Ocean Trash Index.