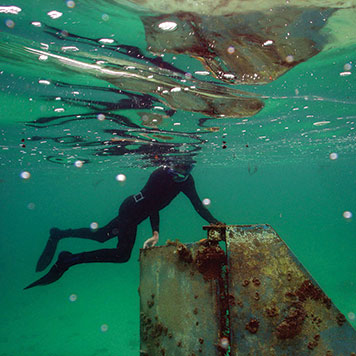 Marine Debris
Marine debris is everyone's problem. It is a global problem affecting everything from the environment to the economy; from fishing and navigation to human health and safety; from the tiniest coral polyps to giant blue whales. Marine debris comes in many forms, from a cigarette butt tossed on the beach to a 4,000-pound tangle of derelict fishing nets caught on a coral reef. Since 2005, the NOAA Marine Debris Program, one of three divisions within the Office of Response and Restoration, serves as a centralized program within NOAA, coordinating, strengthening, and promoting marine debris activities within the agency and among its partners and the public.
Importance
Marine debris has many detrimental impacts on ecosystems, such as habitat degradation, entanglement, ingestion, and transportation of non-native species. Debris can even affect human health and navigation safety. Research is beginning to reveal the scope of the issue, and this knowledge, along with new technologies, can lead to more effective solutions to the problem. Efforts to reduce and prevent marine debris decrease not only the quantities but also the impacts of debris, and over time, create an overall change in the behaviors that lead to debris. Through efforts in these areas as well as by working with partners across the U.S. and around the world, together everyone can make a difference in solving the problem of marine debris. Learn more about marine debris and what you can do about it at the NOAA Marine Debris Program's website.
Marine Debris Research Publications

Here are citations for a sampling of research publications of the Marine Debris Division staff of NOAA OR&R.

Abandoned and Derelict Vessels

Sunken, stranded, and decrepit vessels—especially those with oil still on board—can become hazards to navigation while also posing as significant pollution threats to sensitive marine and coastal habitats. OR&R is working on this issue in a variety of ways.

Activities in the Arctic

OR&R is building on decades of experience in Alaska to ensure the safety of Alaskan communities, ecosystems, and local economies while supporting a rising demand for maritime access and offshore development in the Arctic. Take a closer look at our diverse efforts in this part of the world.

What Do We Know Today About Microbeads and Microplastics in the Ocean?

Tiny plastic "microbeads" found in some face cleansers and toothpastes—as well as the ocean and Great Lakes—have been a topic of interest lately.

Find out more about new legislation and research concerning microbeads and microplastics, and learn about the bigger problem of minuscule plastics in the ocean.

How to Keep Your Belongings From Becoming Trashed by Hurricanes

While we can't prevent hurricanes, we can prepare for them.

Learn what you can do to keep you, your family, and your belongings safe, far ahead of any natural disaster.

How Big Is the "Great Pacific Garbage Patch"? Science vs. Myth

Reports abound about the size of the "Great Pacific Garbage Patch," a marine mass of plastic frequently compared to the size of Texas.

But separating science from science fiction about the Pacific garbage patch is important when answering questions about what it is and how we should deal with the problem.

Explore the science behind the so-called "garbage patches" floating in the ocean.

What You Can Do to Keep Plastic out of the Ocean

How could we all use less plastic in our daily lives? What could we do to keep the plastic we do use out of the ocean? Here are a few ideas anyone can do to get started.

Visualizing How Ocean Currents Help Create the Garbage Patches

The data whizzes at NASA recently decided to turn their attention from the sky to the ocean as they attempted to model how ocean currents help drive the formation of the "garbage patches."

Watch how they visualized these data and learn more about these ocean gathering places for marine debris.

Surveying What Hurricane Katrina Swept out to Sea

The massive storm surge from Hurricane Katrina destroyed houses and infrastructure along the Gulf Coast.

When it receded, it washed out to sea massive amounts of what became marine debris.

In the years after, NOAA surveyed and mapped these wrecked vessels, containers, and other remnants from the storm.

How Beach Cleanups Help Keep Microplastics out of the Garbage Patches

How do we get from a large plastic water bottle on a beach to innumerable plastic pieces no bigger than a sesame seed suspended a few inches below the ocean surface thousands of miles from land?

The answer starts with the sun.

How Ghost Fishing Is Haunting Our Ocean

What is the not-at-all-supernatural phenomenon known as "ghost fishing"? It's a pervasive problem that haunts marine life all over the ocean.

April Showers Bring ... Marine Debris to Pacific Northwest Beaches?

Over the last few weeks, emergency managers in coastal Washington and Oregon have noted an increase in the marine debris arriving on our beaches.

NOAA oceanographer Amy MacFadyen has been trying to figure out why by examining how patterns of wind and currents in the North Pacific Ocean change with the seasons and what that means for marine debris showing up on Pacific Northwest beaches.

"Gyre: The Plastic Ocean" Exhibit Puts Ocean Trash on Display in Alaska

As part of the Gyre expedition, scientists surveyed and collected marine debris along the Gulf of Alaska.

Meanwhile, the artists with them were taking photos and collecting bits of it to incorporate into the art exhibit, Gyre: The Plastic Ocean, now open at the Anchorage Museum.

Learn more about this project aiming to bring perspective to the global marine debris problem through art and science.

No Solid Mass of Debris from Japan in the Pacific Ocean

We've heard a concern that there's an island of debris in the Pacific Ocean coming from the 2011 earthquake and tsunami in Japan.

Here's the bottom line: There is no solid mass of debris from Japan heading to the United States.

Get Answers to All Your Questions about Japan Tsunami Marine Debris

More than two years have passed since the devastating earthquake and tsunami hit the east coast of Japan.

Learn more about the resulting issue of Japan tsunami marine debris in our video, infographic, and a Twitter conversation with NOAA Marine Debris Program Director Nancy Wallace.

What to Do If You Find Marine Debris from the Japan Tsunami

Ever since the first few items—an unmanned fishing boat, a childhood soccer ball—from the 2011 Japan earthquake and tsunami began turning up in North America, people have been asking what they should do if they find something themselves.

As it turns out, it depends on where you are and what you find.

Learn more about resources to help you deal with various types of marine debris.

Gulf of Mexico Marine Debris Project

To address marine debris impacts on the Gulf Coast, Congress tasked NOAA in July 2006 to survey and map nearshore waters impacted by Hurricanes Katrina and Rita to facilitate debris removal.

In Florida, Rallying Citizen Scientists to Place an Ocean-Sized Problem Under the Microscope

The Florida Microplastic Awareness Project is giving people the opportunity to glimpse into Florida's waters and see a microscopic world of plastic pollution up close.

This project integrates citizen science with education about microplastics.

Untangling Both a Whale and Why Marine Life Get Mixed up With Our Trash

In the United States alone, scientific reports show at least 115 different species of marine life have gotten tangled up in the issue of marine debris.

But why? Is there something that makes certain animals—seals, whales, sea turtles—especially vulnerable to entanglement?

Follow Along as NOAA Clears the Waters of the Northwestern Hawaiian Islands

Roughly 52 tons of fishing nets wash up on the far-off tropical reefs, islands, and atolls of the Papahānaumokuākea Marine National Monument each year. This year, the NOAA Marine Debris Program is joining NOAA's annual mission to clean up the nets that can smother corals and entangle marine life in these sensitive habitats.

Marine Debris 2014 Planners Are Now Available

The 2014 Marine Debris planner, featuring winning artwork from the 2013 "Keep the Sea Free of Debris!" art contest, is now available while supplies last.

NOAA Launches Online Tool for the Marine Debris Community

The NOAA Marine Debris Program has launched the Marine Debris Clearinghouse, a new online tool for tracking and researching marine debris projects and resources.

Learn more about this new tool for combating the problem of trash in our ocean, and let us know what you think.

NOAA Lifts 14 Metric Tons of Fishing Nets and Plastics from Hawaiian Coral Reefs

A team of NOAA divers recently spent 19 days collecting debris from along the shoreline and in the water around Midway Atoll in the Northwestern Hawaiian Islands. Their efforts, part of a restoration plan to restore corals after a 2005 ship grounding, resulted in 14 metric tons of debris removed, including another item washed up from the 2011 Japan tsunami.

Taking a Closer Look at Marine Debris in Your Backyard

Join NOAA's Marine Debris Blog for their ongoing series, Marine Debris in Your Backyard, which examines the unique challenges of marine debris and its impacts on various parts of the United States.

Find out where they have looked at so far and learn about how much locations, such as Alaska and the Great Lakes, can be faced with such different types of marine debris.

Is There a Garbage Patch in the Great Lakes?

While we know about the so-called "garbage patches" in the Pacific Ocean, recent research has people wondering if there could be a mass of floating plastic trash forming in the Great Lakes.

Learn more about plastic pollution in the world's largest source of fresh water.

Small Boat Confirmed as First Japan Tsunami Debris to Reach California

The Consulate General of Japan in San Francisco has confirmed to NOAA that a 20-foot-long skiff found near Crescent City, Calif., is the first verified piece of Japan tsunami debris to turn up in California.

They traced the skiff to Takata High School, located in Japan's Iwate Prefecture, an area devastated by the March 2011 earthquake and tsunami.

Marine Debris Student Art Contest Winners Announced

The NOAA Marine Debris Program has announced the winners for their annual "Keep the Sea Free of Debris!" Art Contest.

Read more and check out some of the winning entries.

Two Years after Japan Tsunami, Beached Dock to be Removed from Washington's Olympic Coast

Two years after the devastating 9.0 earthquake and tsunami struck Japan, removal work is slated to begin for the 65-foot Japanese dock which washed ashore in a remote area of Washington state.

Where Are the Pacific Garbage Patches?

You may have heard of the "garbage patches" of debris afloat in the Pacific Ocean.

Here, we explore the oceanic and atmospheric forces that create them and attempt to answer: Where are they and why are they there?

Small Japanese Boat Found near Vancouver Island, Canada, Even as Summer Currents Hold Marine Debris at Bay for now

On a remote island near Vancouver Island, Canada, a small boat inscribed with Japanese characters washed up and has been connected to the 2011 Japan tsunami.

Nevertheless, this confirmation comes at a time when seasonal weather patterns are keeping the total amount of debris washing up off the Pacific Northwest coast relatively low.

NOAA Hauls 50 Metric Tons of Debris out of Hawaiian Waters

NOAA scientists recently removed nearly 50 metric tons of marine debris—mostly abandoned fishing nets and plastics—from the turquoise waters of Papahānaumokuākea Marine National Monument in the Northwestern Hawaiian Islands. This latest sweep of marine debris also scanned for items which might have been carried there from the 2011 Japan tsunami.

How Much Would it Cost to Clean up the Pacific Garbage Patches?

Over the last several years, the infamous "Great Pacific Garbage Patch" has become quite a phenomenon.

But if we know where this large concentration of marine debris is located, why can't we clean it up? And how much would it cost?

How Is Japan Tsunami Marine Debris Cleaned up on the West Coast?

The challenges with all marine debris, including debris from the 2011 Japan tsunami, are that it is difficult to trace it back to its origin with certainty, it poses environmental and safety risks, and it can impact commerce and recreation.

Find out how the different types of marine debris are handled on the West Coast.

Living in the Age of Plastic: Conserving Plastic vs. Conserving the Environment from Plastic

Today, we live an era dominated by plastics—versatile, ubiquitous, "disposable" plastics.

In this "Age of Plastic," come explore the flip side of "conservation" from a materials scientist at the Smithsonian and learn about plastic's surprising conservation connection in the early days of synthetics.

Are Your Clothes Shedding Plastic Into the Ocean?

When you pull on your favorite fleece jacket, you probably never think about how it could be contributing to marine pollution.

However, recent research has uncovered how synthetic fabric products (such as fleece) could be a potential source of microscopic plastic fibers in the ocean and on beaches. Learn more.

The Search for Microplastics: From Face Scrubs to the Sea

You may be surprised to learn that the tiny exfoliating "beads" found in many cleansers often are actually made of plastic.

These bits of polyethylene plastic are small enough to escape filtration and instead end up in the ocean, where they may become a hazard to marine life.

Learn about the research NOAA and our partners are doing to figure out what extent microplastics are a problem in our ocean.

One Year Later: Aftermath and Debris of the Japan Tsunami

March 11 marked one year since Japan suffered one of the worst natural disasters and human tragedies in its history: the 9.0 earthquake and ensuing tsunami.

Here at NOAA, we're preparing for a different kind of aftermath from the disaster: the possibility that debris washed into the sea by the tsunami could arrive on North American shores over the next few years.

Using the Almighty Dollar, NOAA Marine Debris Program Empowers Groups to Keep Coasts Clean

In addition to its many other activities, the NOAA Marine Debris Program uses the power of funding to put much-needed dollars into the hands of a variety of worthy groups working to address marine debris across the country.

Learn about the organizations and projects aimed at removing, preventing, and researching marine debris.

Embarking on the GYRE Expedition: A Scientific and Artistic Study of the Trash on Alaska's Shores

In order to study and raise awareness about the problem of marine debris on Alaska's shorelines, an international group of scientists, artists, and educators, including NOAA, recently embarked on the GYRE Expedition.

Learn more about and view photos of their research cruise to study—and be inspired by—the issue of marine debris in Alaska.

Japanese Dock Lost in 2011 Tsunami Removed from Washington's Olympic Coast

A large Japanese dock swept across the Pacific Ocean after the March 2011 tsunami has now been removed from Washington's Olympic Coast. Read more, watch a time-lapse video of the removal, and listen to a podcast about how two docks could leave Japan at the same time, cross the ocean, and arrive at two different places six months apart.

Japan Confirms Dock on Washington Coast Is Tsunami Marine Debris

The Japanese Consulate has confirmed to NOAA and our partners that the large floating dock that washed ashore in Washington's Olympic National Park in late December is in fact one of three missing docks from the fishing port of Misawa, Japan.

These docks were swept out to sea during the earthquake and tsunami off of Japan in March 2011.

New Legislation Expands Scope of NOAA Marine Debris Program to Deal with Natural Disaster Debris

President Obama signed legislation reauthorizing the NOAA Marine Debris Program and its mission to address the harmful impacts of marine debris on the United States.

In doing so, this gave the program a new authority to deal with unusually large influxes of marine debris which may follow tsunamis or hurricanes.

Government of Japan Gifts NOAA $5 Million to Address Tsunami Marine Debris

DECEMBER 4, 2012 -- On Nov. 30, the Government of Japan announced a gift of $5 million to the United States, through NOAA's Marine Debris Program, to support efforts in response to marine debris washing ashore in the U.S. from the March 2011 earthquake and tsunami in Japan.

Japanese Soccer Ball Lost During Tsunami Washes Up in Alaska

More than a year and thousands of miles later, a soccer ball washed away during the Japan tsunami has turned up on a remote Alaskan island and eventually could be headed back to the Japanese school grounds it originally came from.

Read more about this curious story and NOAA's involvement.

Tracking Marine Debris from the Japanese Tsunami

Debris from the tsunami that devastated Japan in March could reach the United States as early as this winter, according to predictions by NOAA scientists.

However, they warn there is still a large amount of uncertainty over exactly what is still floating, where it's located, where it will go, and when it will arrive.

Responders now have a challenging, if not impossible situation on their hands: How do you deal with debris that could now impact U.S. shores, but is difficult to find?

Fishing for Energy Partnership Collects Over 1 Million Pounds of Abandoned Fishing Gear

Since launching in 2008, Fishing for Energy, a successful private-public partnership coordinated by NOAA's Marine Debris Program, has reeled in approximately 1.1 million pounds of old fishing gear.

Fishermen have played a key role in directly retrieving a portion of this amount from the ocean.

Picking up 52.9 Million Plastic Cigarette Butts off Beaches

Guess what the number one most littered item is in America: cigarette butts.

In the past 25 years, beach cleanup volunteers have collected nearly 53 million of these plastic, toxic pieces of litter from beaches and waterways during the annual International Coastal Cleanup.

Learn more about this last form of "acceptable" litter in America and what you can do about it.

With Skiff Found off Maui, NOAA and Partners Confirm Hawaii's Latest Reports of Japan Tsunami Marine Debris

OCTOBER 6, 2012 -- On the heels of Hawaii's first confirmed report of Japan tsunami debris, NOAA and our partners are already examining the second confirmed item: a barnacled skiff which a fisherman found off the Hawaii coast—and which he wants to keep.

Learn more about the latest reports of marine debris connected to the 2011 Japan tsunami which has begun arriving in Hawaii.

New NOAA Model Improves Understanding of Potential Paths of Japan Tsunami Debris

Concerns persist that the diverse array of floating materials from the 2011 Japan tsunami could wash up on U.S. and Canadian shorelines.

A recently updated NOAA model sheds light on where this debris may have traveled and where the majority of it likely still remains at this time.

Read more about NOAA's efforts to collect data on this debris and prepare for possible impacts on our coasts.

Microplastics on National Park Beaches

June 30, 2017 - To investigate the number and distribution of microplastics on National Park beaches across the Unites States, researchers at Clemson University collaborated with the National Park Service to collect and analyze sand from 37 coastal National Parks.

Fishing for Energy: Where Old Fishing Gear Goes to Retire

Where does old fishing gear go to retire? Thanks to an innovative partnership, it avoids a watery fate at the bottom of the sea.

Learn more about how it instead takes on a new life as energy!

10 Unexpected Reasons to Join This Year's International Coastal Cleanup

There are plenty of obvious reasons to join the more than half a million other volunteers picking up trash during this year's International Coastal Cleanup on Saturday, September 20, 2014.

But just in case you're looking for a few less obvious incentives, here are 10 more reasons to sign up to cleanup.

8 Ways to Keep the Earth Clean

April 18, 2017 - Earth Day is just around the corner and it's the perfect time to get involved and support efforts working toward a clean environment and healthy planet. NOAA's Marine Debris Program suggests ways you can help all year long.