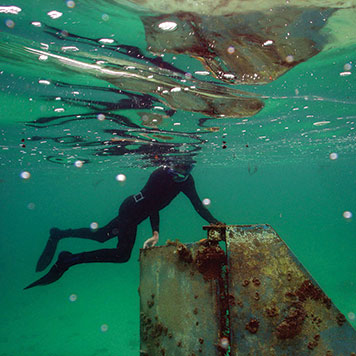 Marine Debris
Marine debris is everyone's problem. It is a global problem affecting everything from the environment to the economy; from fishing and navigation to human health and safety; from the tiniest coral polyps to giant blue whales. Marine debris comes in many forms, from a cigarette butt tossed on the beach to a 4,000-pound tangle of derelict fishing nets caught on a coral reef. Since 2005, the NOAA Marine Debris Program, one of three divisions within the Office of Response and Restoration, serves as a centralized program within NOAA, coordinating, strengthening, and promoting marine debris activities within the agency and among its partners and the public.
Importance
Marine debris has many detrimental impacts on ecosystems, such as habitat degradation, entanglement, ingestion, and transportation of non-native species. Debris can even affect human health and navigation safety. Research is beginning to reveal the scope of the issue, and this knowledge, along with new technologies, can lead to more effective solutions to the problem. Efforts to reduce and prevent marine debris decrease not only the quantities but also the impacts of debris, and over time, create an overall change in the behaviors that lead to debris. Through efforts in these areas as well as by working with partners across the U.S. and around the world, together everyone can make a difference in solving the problem of marine debris. Learn more about marine debris and what you can do about it at the NOAA Marine Debris Program's website.
Marine Debris Research Publications

Here are citations for a sampling of research publications of the Marine Debris Division staff of NOAA OR&R.

Abandoned and Derelict Vessels

Sunken, stranded, and decrepit vessels—especially those with oil still on board—can become hazards to navigation while also posing as significant pollution threats to sensitive marine and coastal habitats. OR&R is working on this issue in a variety of ways.

Activities in the Arctic

OR&R is building on decades of experience in Alaska to ensure the safety of Alaskan communities, ecosystems, and local economies while supporting a rising demand for maritime access and offshore development in the Arctic. Take a closer look at our diverse efforts in this part of the world.

What Do We Know Today About Microbeads and Microplastics in the Ocean?

Tiny plastic "microbeads" found in some face cleansers and toothpastes—as well as the ocean and Great Lakes—have been a topic of interest lately.

Find out more about new legislation and research concerning microbeads and microplastics, and learn about the bigger problem of minuscule plastics in the ocean.

How Big Is the "Great Pacific Garbage Patch"? Science vs. Myth

Reports abound about the size of the "Great Pacific Garbage Patch," a marine mass of plastic frequently compared to the size of Texas. But separating science from science fiction about the Pacific garbage patch is important when answering questions about what it is and how we should deal with the problem. Explore the science behind the so-called "garbage patches" floating in the ocean.

What You Can Do to Keep Plastic out of the Ocean

How could we all use less plastic in our daily lives? What could we do to keep the plastic we do use out of the ocean? Here are a few ideas anyone can do to get started.

Visualizing How Ocean Currents Help Create the Garbage Patches

The data whizzes at NASA recently decided to turn their attention from the sky to the ocean as they attempted to model how ocean currents help drive the formation of the "garbage patches."

Watch how they visualized these data and learn more about these ocean gathering places for marine debris.

Untangling Both a Whale and Why Marine Life Get Mixed up With Our Trash

In the United States alone, scientific reports show at least 115 different species of marine life have gotten tangled up in the issue of marine debris.

But why? Is there something that makes certain animals—seals, whales, sea turtles—especially vulnerable to entanglement?

NOAA Launches Online Tool for the Marine Debris Community

The NOAA Marine Debris Program has launched the Marine Debris Clearinghouse, a new online tool for tracking and researching marine debris projects and resources.

Learn more about this new tool for combating the problem of trash in our ocean, and let us know what you think.

Taking a Closer Look at Marine Debris in Your Backyard

Join NOAA's Marine Debris Blog for their ongoing series, Marine Debris in Your Backyard, which examines the unique challenges of marine debris and its impacts on various parts of the United States.

Find out where they have looked at so far and learn about how much locations, such as Alaska and the Great Lakes, can be faced with such different types of marine debris.

How Much Would it Cost to Clean up the Pacific Garbage Patches?

Over the last several years, the infamous "Great Pacific Garbage Patch" has become quite a phenomenon.

But if we know where this large concentration of marine debris is located, why can't we clean it up? And how much would it cost?

New Legislation Expands Scope of NOAA Marine Debris Program to Deal with Natural Disaster Debris

President Obama signed legislation reauthorizing the NOAA Marine Debris Program and its mission to address the harmful impacts of marine debris on the United States.

In doing so, this gave the program a new authority to deal with unusually large influxes of marine debris which may follow tsunamis or hurricanes.

Microplastics on National Park Beaches

June 30, 2017 - To investigate the number and distribution of microplastics on National Park beaches across the Unites States, researchers at Clemson University collaborated with the National Park Service to collect and analyze sand from 37 coastal National Parks.

8 Ways to Keep the Earth Clean

April 18, 2017 - Earth Day is just around the corner and it's the perfect time to get involved and support efforts working toward a clean environment and healthy planet. NOAA's Marine Debris Program suggests ways you can help all year long.