Back to top
Assessment and Restoration
From Superfund sites to oil spills, OR&R is responsible for evaluating and restoring damaged coastal and estuarine habitats. Through NOAA's Damage Assessment, Remediation and Restoration Program, OR&R provides permanent expertise to assess and restore natural resources injured by releases of oil and hazardous substances, as well as by physical impacts, such as ship groundings in National Marine Sanctuaries.
Selendang Ayu oil spill damage assessment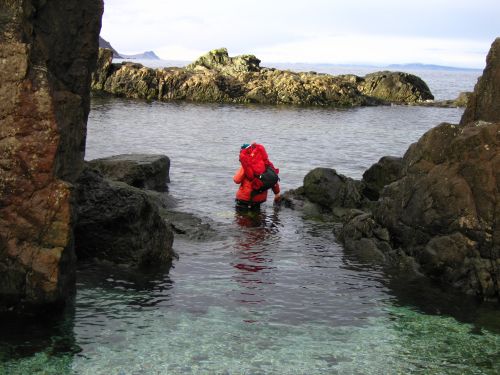 Selendang Ayu oil spill damage assessment
(NOAA)
Selendan Ayu oil spill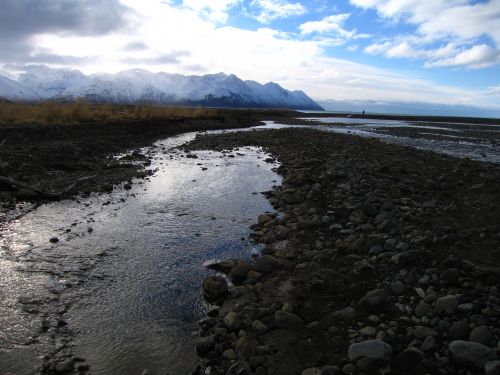 Selendan Ayu oil spill
(NOAA)
Selendang Ayu oil spill damage assessment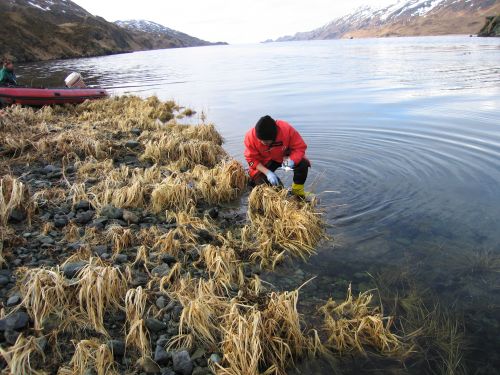 Selendang Ayu oil spill damage assessment
(NOAA)
Selendang Ayu oil spill damage assessment
Selendang Ayu oil spill damage assessment
(NOAA)
Sampling Fish after Refugio Oil Spill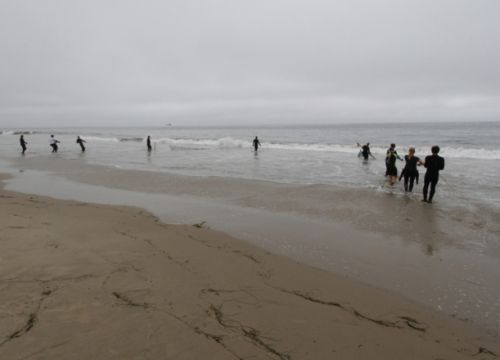 Scientists pull in a seine net along a beach near Santa Barbara, California, about a year after the oil spill at Refugio State Beach. They are sampling fish known as surfperch to evaluate any impacts from the oil spill.
(NOAA)
Commencement Bay Restoration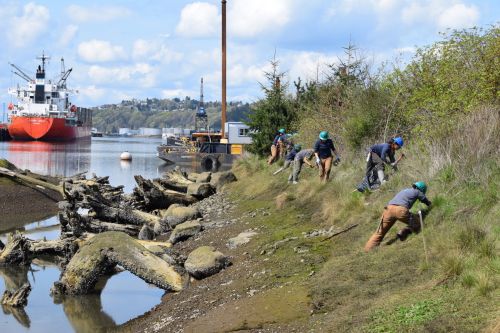 Beginning in the early 1900s, industrialization in Commencement Bay in Tacoma, Washington, led to the filling of a vast area of tideflats, as well of channelization of the meandering streams and rivers that flowed into the bay. Various industries, including shipbuilding, oil refining, and chemical manufacturing released PCBs, dioxins, and heavy metals into the bay. Since 1990, a significant portion of the contaminated area has been cleaned up by EPA, with NOAA's technical expertise.
(NOAA)
Collecting Native Fish for Injury Determination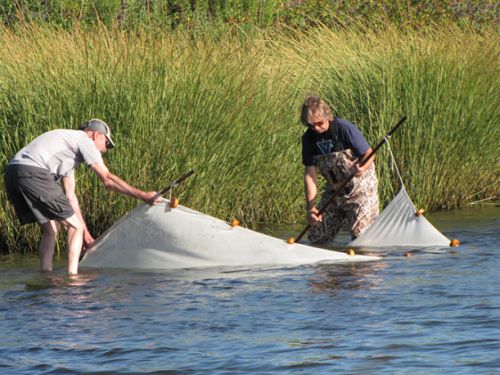 Scientists seining salt marsh tidal channel collecting native small fish for injury determination in 2016. A seine, lift net, and minnow traps were used to collect fish adjacent to the marsh for species identification and to measure body size and observe possible abnormalities, both external and internal.
(NOAA)
Using Canines for Oil Detection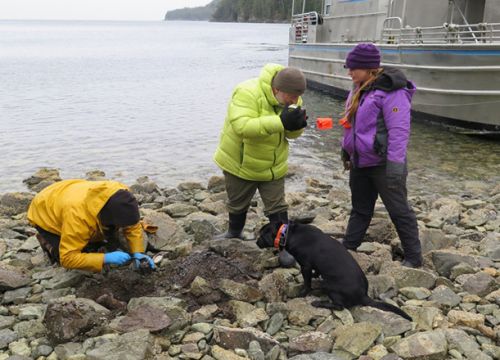 Paul Bunker and Haiden Montgomery assessing the odor of residual Exxon Valdez oil, while Pepper (the dog) closely supervises the collection of an oil sample by Scott Pegau of the Oil Spill Recovery Institute in 2017. This project is to validate and better understand the capabilities of trained oil detection canines to locate subsurface stranded oil. The results of the study may affect the design and implementation of shoreline cleanup and assessment technique surveys for stranded oil. 
(NOAA)
Volunteers Planting Grass at 2010 NOAA Restoration Day Event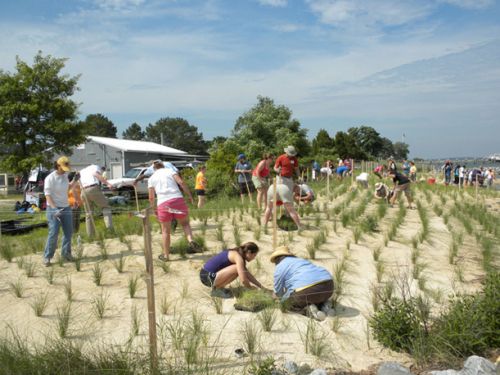 Volunteers plant Switch Grass during the 2010 NOAA Restoration Day event at the NOAA Cooperative Oxford Lab in Oxford, Maryland.
(NOAA)
Restoring Habitat Post-Deepwater Horizon Oil Spill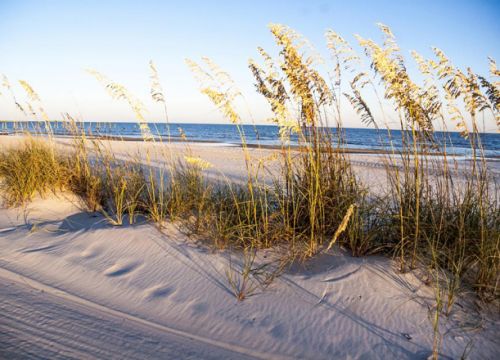 Beach habitat was part of the 2016 Deepwater Horizon oil spill settlement. 
(NOAA)
Collecting Baseline Sediment Samples in the Arctic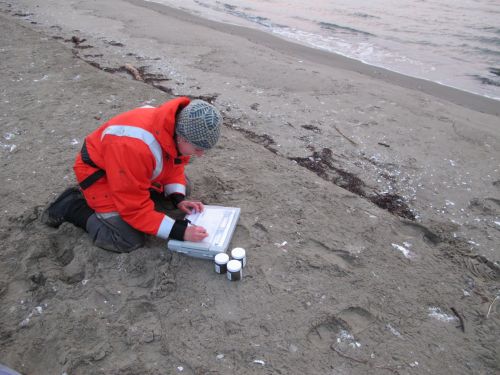 OR&R scientist Sarah Allan collecting baseline sediment samples at the Kitluk River in Alaska. 
(NOAA)
Kayaking on the Kalamazoo River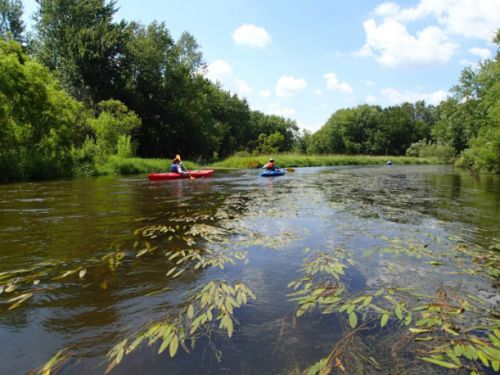 Paper mills conducting carbonless copy paper recycling released PCBs into the Kalamazoo River from the late 1950s through the early 1970s. EPA's cleanup efforts are ongoing.
(NOAA)
Pierce Marsh, Texas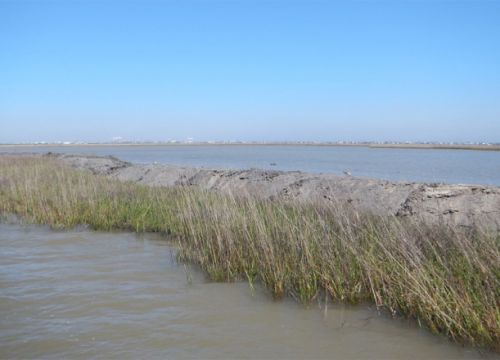 A small levee constructed in Pierce Marsh, near Galveston Bay, Texas, in 2016 contains dredged sediments that will restore marsh elevation and improve habitat quality. Image credit: NOAA
(NOAA)
Restored Tidal Marsh in New Jersey
From landfill to vibrant tidal marsh, the wetland restoration at Lincoln Park in Jersey City, New Jersey, was made possible with funding from multiple oil spill settlements and the American Recovery and Reinvestment Act.
This project restored a significant area of coastal wetlands in New York-New Jersey harbor's Arthur Kill ecosystem.
(NOAA)
Hudson River tributary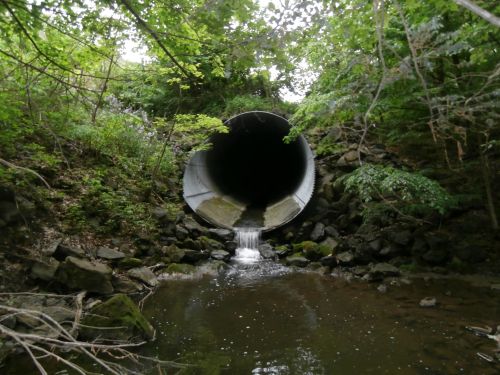 Starting in 1947 and for approximately 30 years, manufacturing plants operated by General Electric Company (GE) discharged PCBs into the upper Hudson River, with additional releases of PCBs occurring as well.
(NOAA)
Aquatic restoration projects on the Housatonic River in Connecticut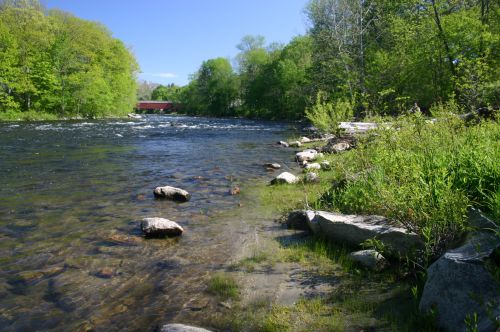 The latest round of aquatic restoration projects for the Housatonic River will also indirectly improve water quality, increase buffering during coastal storms, and reduce runoff pollution into the river.
(NOAA)
Industrial pollution in the Duwamish River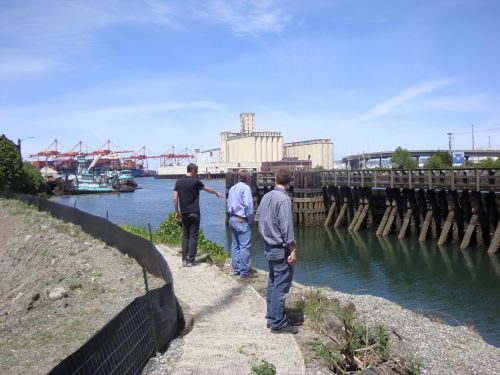 As a result of industrial activities along the Duwamish River in Seattle, Washington, NOAA is evaluating possible injuries to the benthic community including flatfish and salmon.
(NOAA)
Alcoa Aluminum plant
For decades, two Alcoa alumininum facilities discharged toxic PCBs into the St. Lawrence River, its tributaries the Grasse and Raquette Rivers, and the surrounding area in Massena, N.Y. Alcoa and Reynolds are paying $19.4 million to settle the resulting damages to natural resources.
(NOAA)
Two people sampling in a stream after the Adak oil spill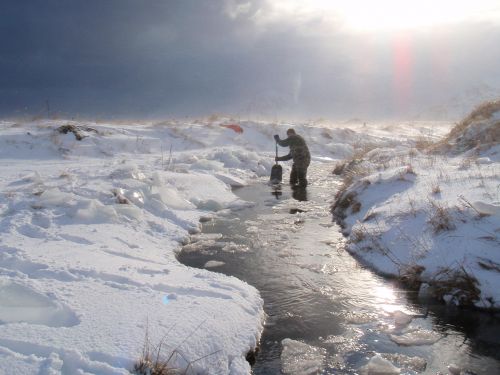 In the wake of the 2010 oil spill on Adak Island, a field team member from the Alaska Department of Fish and Game breaks the ice to prepare a stream for sampling, in this case, for electrofishing. Field teams also were setting small fish traps, which do not require breaking up the ice like this.
(Alaska Fish and Game)
Scientists Sampling Sediments at Federal Creosote Superfund Site in New Jersey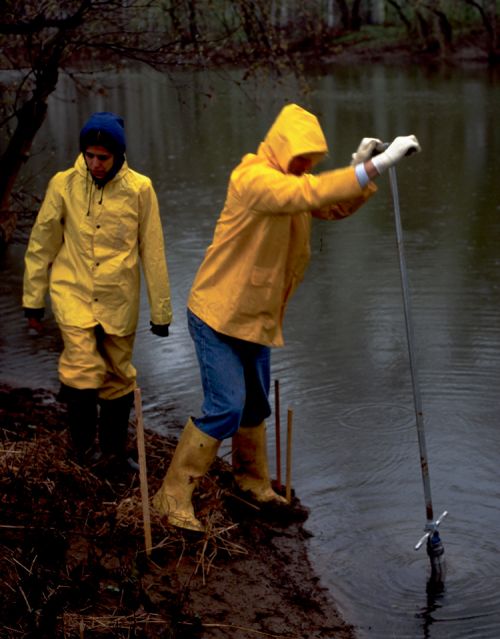 Scientists gather sediment samples along the Millstone River to assess the extent of contamination from the Federal Creosote Superfund Site in Manville, N.J. (NOAA)
(NOAA)
Sampling Fiddler Crabs in Puerto Rico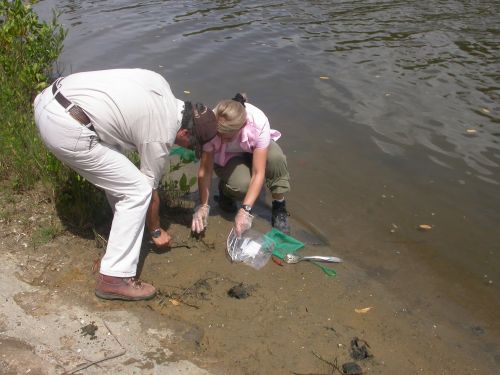 Scientists collect fiddler crabs on Vieques Island, Puerto Rico, in 2008 as part of a study conducted by NOAA to characterize chemical concentrations of hazardous substances in both land and fiddler crabs. (NOAA)
(NOAA)
Water Celery in the Hudson River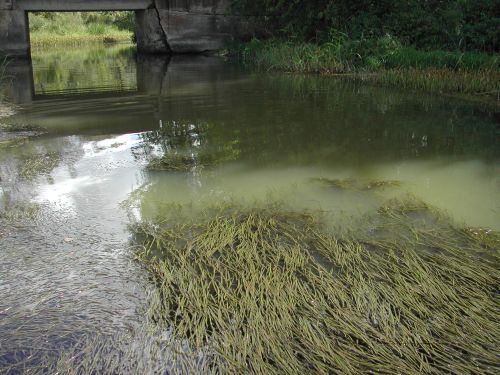 Water celery is the dominant aquatic vegetation in the Upper Hudson River (N.Y.) and serves as important foraging, nursery, and sheltering habitat for a variety of invertebrates, fish, and wildlife. The vegetation here was photographed in 2004. (NOAA)
(NOAA)
Emergent Wetland Plants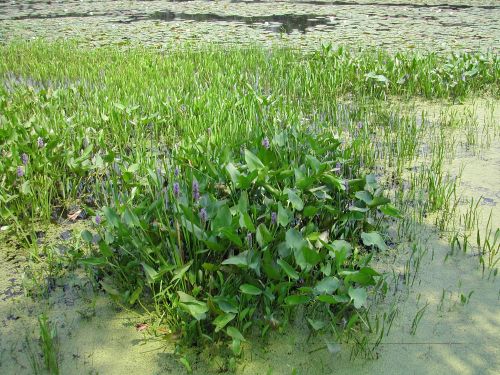 Emergent wetland plants, such as great burreed, pickerelweed and white pond lily, grow along the Griffin Island Causeway (N.Y.) in 2004. These plants comprise the fringing riverine wetlands of the upper freshwater Hudson River, which includes the backwater area behind Griffin Island. (NOAA)
(NOAA)
Assessing Impacts to Mussels from Response-related Boat Traffic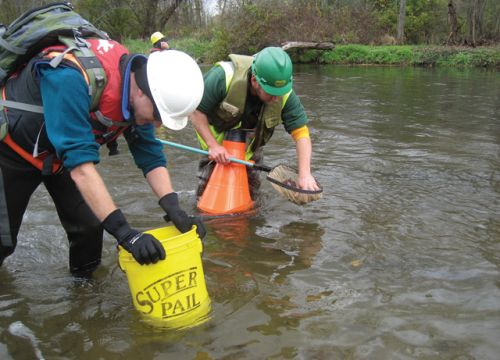 Following an oil spill on the Kalamazoo River in Michigan in 2010, scientists assessed impacts to mussel shells from response-related boat traffic. (NOAA)
(NOAA)
Assessing Damage After a Diesel Fuel Spill in Alaska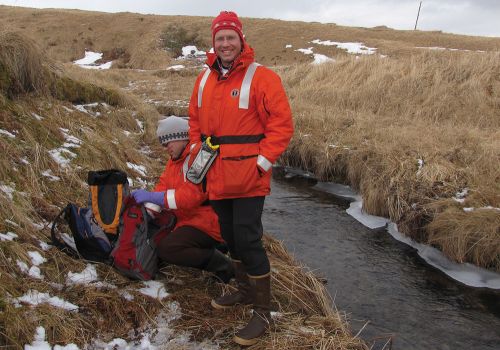 Scientists assess damage to the environment after a diesel fuel spill in the Aleutian Islands in 2010. (NOAA)
(NOAA)
Restored Wetland in Texas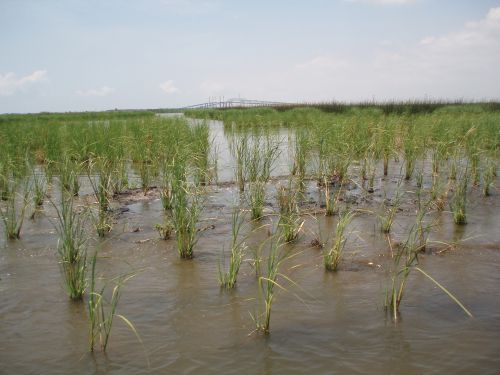 McLane Dam at the Fletcher Superfund Site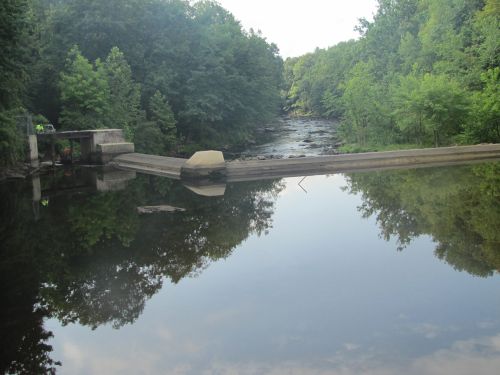 Downstream view over the McLane Dam at the Fletcher Superfund Site in Milford, N.H. Here, water was being drawn down behind the McLane Dam in order to take samples from the Souhegan River. River sediment data will help determine the movement of polychlorinated biphenyls (PCBs) downstream from the waste site (a former paint manufacturing facility) and the feasibility of dam removal. (NOAA)
(NOAA)
Public Meeting for Deepwater Horizon/BP Stakeholders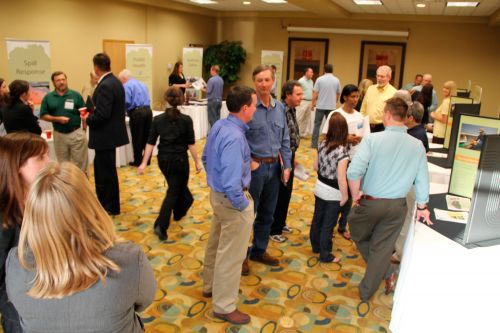 Sampling Sediments After PEPCO Pipeline Leak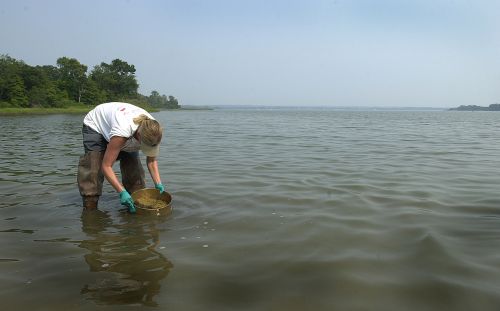 Assessing Marsh Damage in Louisiana