Back to top
Response Techniques
All oil spill cleanup methods have some kind of environmental impact, so selection of a cleanup method inherently forces us to make a tradeoff of the effects of the oil versus the effects of the cleanup. Clean-up techniques range from physical removal (such as skimming boats) to chemical and biological treatment methods (for example, dispersants and oil-eating bacteria). View photos of some commonly used techniques for oil spill response and shoreline cleanup.
Cosco Busan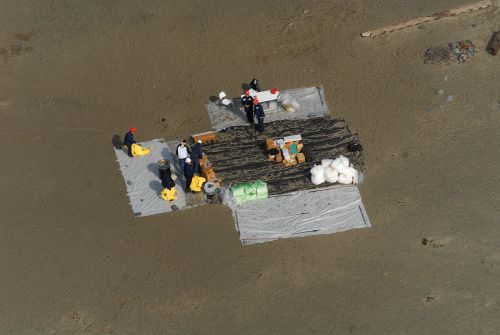 Cleaning Muir Beach.
(USCG)
Cosco Busan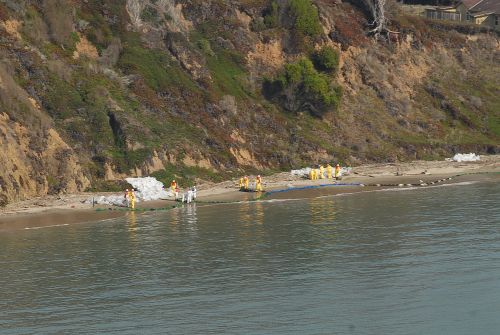 Contractors contain oil from the oil spill.
(USCG)
Oil containment boom supply boat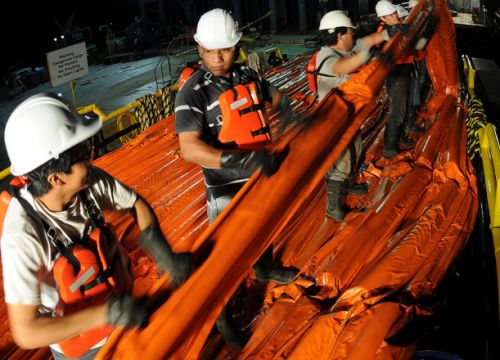 NOAA helped develop a systematic approach to vetting new and non-traditional spill response products and techniques during the fast-paced atmosphere of an oil spill. We helped implement this system during the 2010 Deepwater Horizon oil spill to evaluate the tens of thousands of ideas proposed during the spill.
(U.S. Coast Guard)
Test oil burn at Joint Maritime Test Facility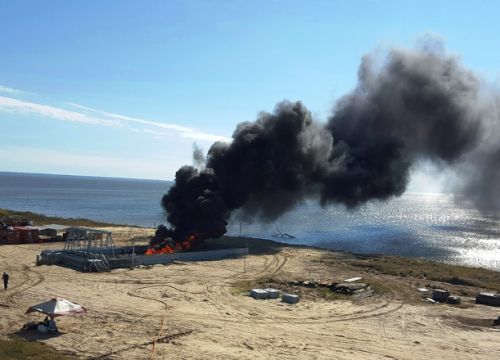 Initial testing of burn pan at Joint Maritime Test Facility located in Mobile, Alabama, on Little Sand Island, November 2015. 
(NOAA)
Post - Deepwater Horizon oil spill sand removal
Cleanup crews in Pensacola Beach, Florida, try to remove oil from the Deepwater Horizon oil spill from the sand in November 2010. 
(NOAA)
Cleaning sediment in the Kalamazoo River
To clean sediment following the oil spill in the Kalamazoo River, Michigan, in July 2010, workers sprayed sediment with water and agitated sediment by hand with a rake. 
(U.S. Environmental Protection Agency)
"Clean Pacific" cleanup demonstration
Oil spill cleanup demonstration at Clean Pacific 2015 conference, Vancouver B.C.
(Pacific States/B.C. Oil Spill Task Force)
Texas City Y oil spill cleanup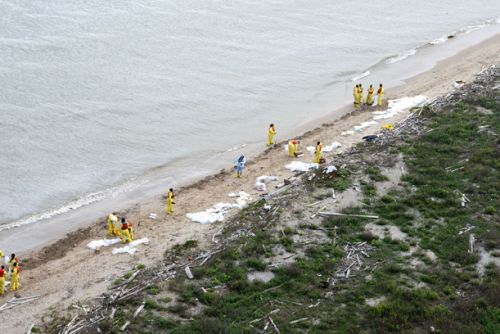 Federal and local agency workers help clean up the beaches affected by oil spill on March 27, 2014. Cleanup efforts continue for the Texas City "Y" response, which resulted from a collision between a bulk carrier and a barge in the Houston Ship Channel.
(U.S. Coast Guard)
Texas City Y oil spill boom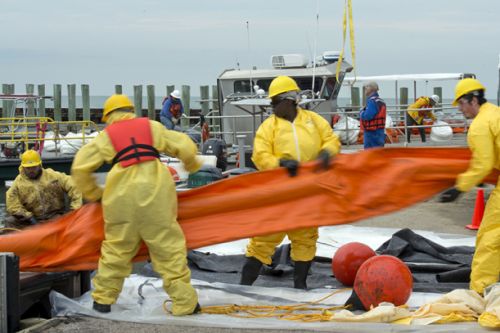 Workers deploy boom around the site of the oil spill in the Houston Ship Channel near the Texas City Dike, March 24, 2014. More than 71,000 feet of boom has been deployed in response to the oil spill that occurred Saturday afternoon, after a bulk carrier and a barge collided in the Houston Ship Channel.
(U.S. Coast Guard)
Refugio oil spill response
Two cleanup crew members work to remove oil from the sand along a portion of soiled coastline near Refugio State Beach, on May 23, 2015. 
(U.S. Coast Guard)
Barge Argo - Lake Erie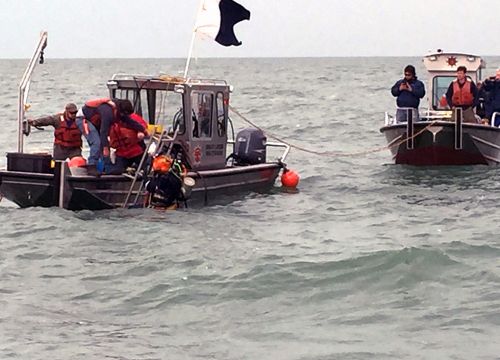 U.S. Coast guard and others investigating oil leaking from the Argo, which sunk in 1937. Located on the U.S. side of the border with Canada, the wreck of the Argo was traced to reports of pollution on Lake Erie in both nations, indicating that the Argo was leaking. At the time of the sinking, the barge was reportedly loaded with 4,762 barrels of crude oil and the chemical benzol. 
(NOAA)
Oceana spill response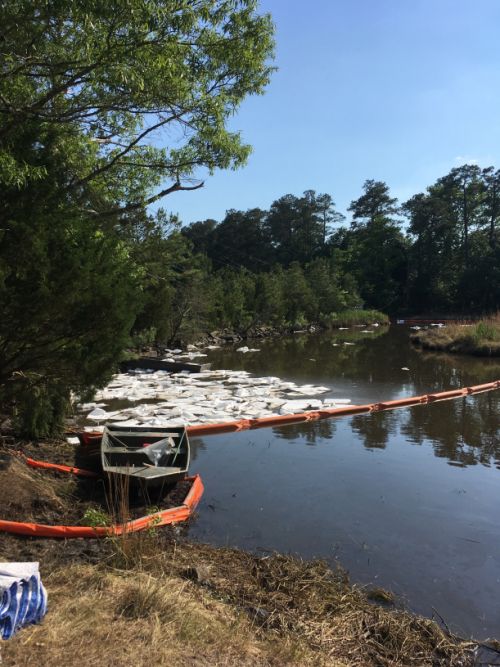 Booms spread across a portion of the Eastern Branch of Lynnhaven Inlet to contain a May 11, 2017 spill of JP-5 jet fuel from the U.S. Naval Air Station, Oceana, in Norfolk, Virginia. 
(NOAA)
Ship Skimming Oil After Deepwater Horizon Spill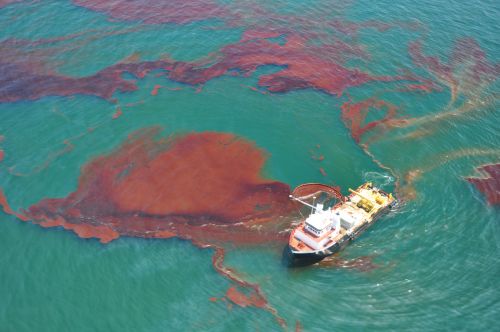 Cleaning the Banks of the Mississippi River After the M/V Westchester Oil Spill
Cleanup workers manually remove oil following the M/V Westchester spill in the Mississippi River near Empire, Louisiana, in November 2000.
(NOAA)
Workers Assess the Shoreline after the Exxon Valdez Oil Spill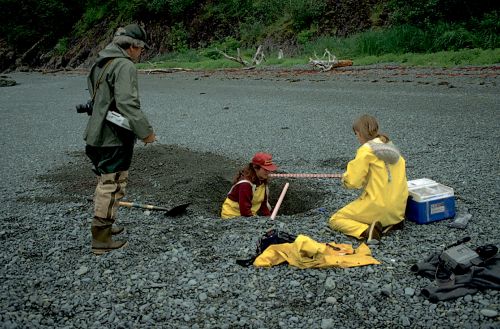 Workers conducting a shoreline assessment following the T/V Exxon Valdez oil spill in Prince William Sound, Alaska, in March of 1989. (NOAA)
(NOAA)
Using Pom-poms to Absorb Oil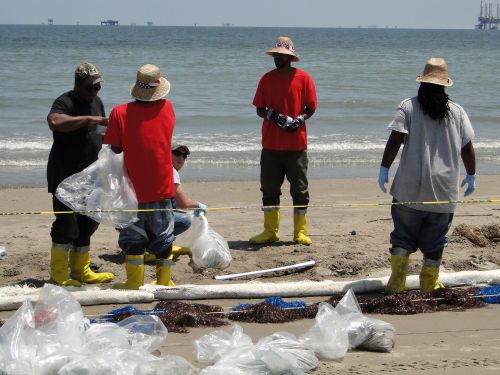 Workers clean oil from the beach in Port Fourchon, LA in June 2010, following the Deepwater Horizon/BP oil spill in the Gulf of Mexico in April. (NOAA)
(NOAA)
Response to a Grounded Tanker in the Galapagos
A response vessel sprays dispersant onto an oil spill in the Galapagos. The tanker Jessica struck a reef off Puerto Baquerizo Moreno on San Cristobal Island on the night of January 16, 2001. The 260 foot vessel was carrying 160,000 gallons of diesel fuel oil and 78,000 gallons of intermediate fuel oil 120, and spilled a significant quantity of this oil.
(Heidi Snell)
Workers at the Tank/Barge DBL152 Oil Spill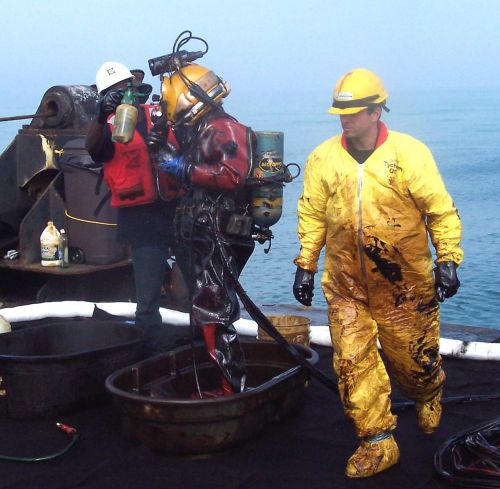 Workers at the Tank/Barge DBL152 spill off of the Louisiana coast in November 2005. (NOAA)
(NOAA)
Shoreline Survey following the Selendang Ayu Oil Spill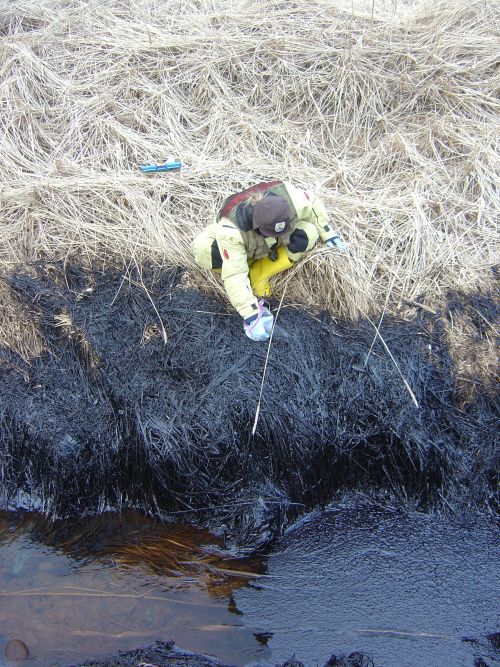 A worker conducts a shoreline survey following the M/V Selendang Ayu grounding and oil spill near the Aleutian Islands, Alaska, in December 2004. (NOAA)
(NOAA)
Cleaning Oil Spilled When Freighter Kuroshima Ran Aground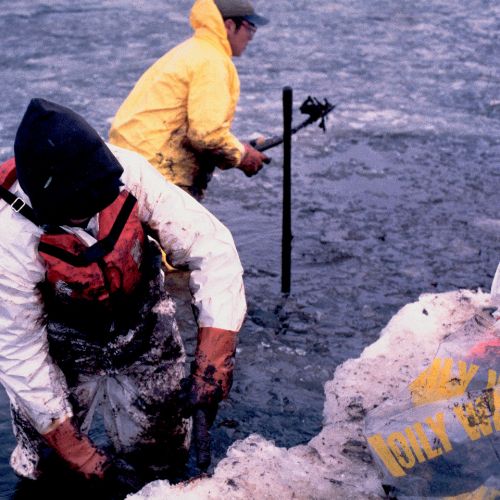 Manual labor following a spill caused when the coastal freighter M/V Kuroshima ran aground on rocks near Dutch Harbor, AK, in November 1997. (NOAA)
(NOAA)
Washing Oil from Rocks after Eagle Otome Oil Spill
Workers cleaning oil spilled following a collision involving crude oil tanker Eagle Otome in Port Arthur, Texas, in January 2010. (NOAA)
(NOAA)
Dispersant Application Near the Louisiana Coast
In November 2005, Tank/Barge DBL152 and the T/V Rebel allided with an obstruction approximately 32 miles from the Louisiana Coast, causing a spill. In the photo, dispersant is being applied to the oil. (NOAA)
(NOAA)
Overflight After Cosco Busan Oil Spill