Parts of the U.S. Government are closed. However, because the information this site provides is necessary to protect life and property, it will be updated and maintained during the Federal Government shutdown. For critical weather information, please visit
www.weather.gov
. To learn more, see
www.commerce.gov
.
On the Chesapeake Bay, Turning Artillery Sites and Landfills into Places for Wildlife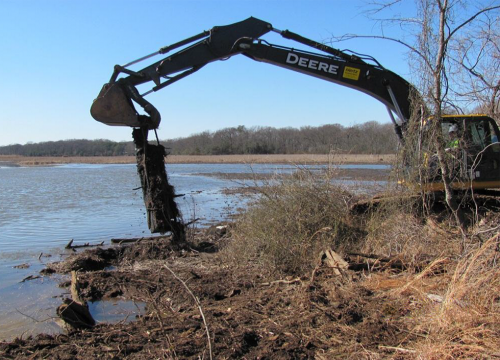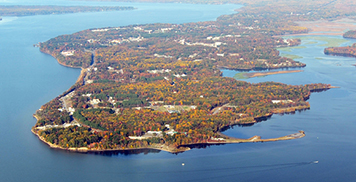 MAY 13, 2015 -- Roughly 25 miles downstream of Washington, DC, on the Potomac River is a military base known as Naval Support Facility Indian Head. Established in 1890, it is the U.S. Navy's oldest continuously running ordnance station (ordnance includes artillery and ammunition). In the course of its history, this sprawling 2,500 acre naval installation has served as a research facility, a testing site for artillery, and a manufacturing site for some of the explosive chemical powders used in weapons. However, as is the case for many other military facilities scattered along the shores of Chesapeake Bay, the land and waters of the Indian Head base became so polluted by the range of military activities—at one point, the Navy used it to test large naval guns by firing projectiles into the Potomac River—that it was designated a Superfund site and slated for cleanup under CERCLA. But tackling environmental cleanup and restoration in a place with such a long history of explosives makes for unusual challenges. For example, when the cleanup team needed to take soil or water samples, they often had to call in ordnance clearance specialists to help deal with the dangerous chemicals, guns, rockets, missiles, ordnance, and explosives potentially littering the area. Juxtaposed against this scene at the base is Mattawoman Creek, a beautiful freshwater tidal creek with abundant wetlands and wildlife adjacent to the military site. Migratory fish such as yellow perch, herring, and shad follow the creek as they travel further inland to reproduce. In addition, many fish use the wetlands as a nursery and source of food. Large, hungry birds such as bald eagles, herons, and egrets flock to the area, as well as recreational fishers eager to cast their lines to the plentiful fish. Fortunately, a detailed investigation indicated that this natural area has not suffered widespread impacts from pollution at the nearby base. Instead, the investigation directed the base's cleanup strategy to focus on key sections serving as major pollution sources.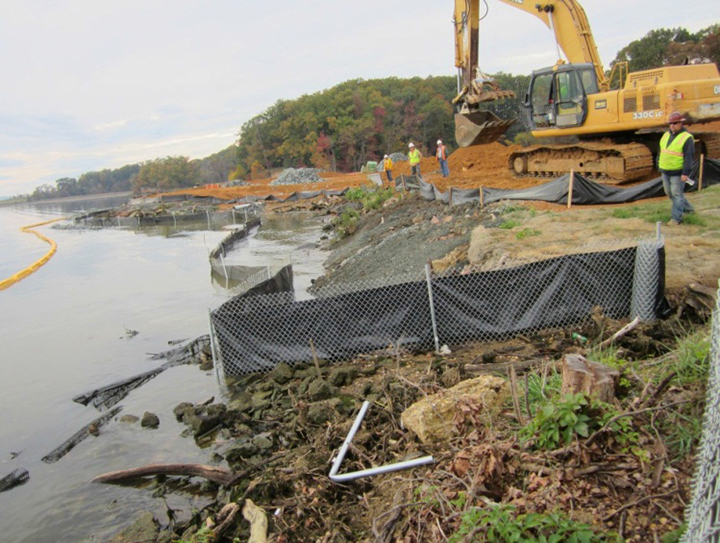 NOAA and fellow trustee agencies proposed turning this former coastal landfill into a "living shoreline" that uses both natural habitat and constructed elements to stabilize the shore, enhance water quality, and create wildlife habitat. (U.S. Navy)
The Caffee Road Landfill at the base's Site 11 was such a mix of soil, waste, and debris that it actually extended the shoreline up to 150 feet into Mattawoman Creek. In addition to serving as a landfill for Indian Head, the military used the site to burn waste, and munitions and explosives potentially lay buried in pockets along the shoreline. Getting this landfill—an ongoing source of pollution—under control needed to accomplish three goals: block contact with the contaminated soil, prevent shoreline erosion, and avoid exposing potential ordnance. The design for remediating this site included placing a protective soil cover over the landfill and stabilizing the shoreline. Historically, shoreline stabilization has been achieved by positioning large rocks and riprap on the edge of the water, which "hardens" the shoreline and would move the wave energy from the protected area to adjacent areas. Instead, NOAA and the trustee agencies responsible for the area's natural resources proposed what is called a "living shoreline." These hybrid shorelines are constructed habitats designed to mimic the functions of natural shoreline habitats and which incorporate both natural habitat and built infrastructure. They aim to provide the same benefits as nature, such as shoreline stabilization, improved water quality, and wildlife habitat. The project was rounded out by planting marsh shrubs and trees along the shoreline and by seeding and mulching the soil cover on top of the landfill. All the while during these construction operations, the cleanup team had a trained professional clearing the munitions and explosives to provide safe working conditions as they transformed this dump into a safe place for fish, birds, and wildlife.
Taking a novel approach to converting this former landfill at Indian Head's site 11 into vibrant coastal habitat resulted in savings of more than $700,000. (U.S. Navy)
The close partnership among several federal and state agencies, including the Navy, U.S. Environmental Protection Agency, Maryland Department of the Environment, and the trustees, was instrumental in successfully and efficiently converting this former landfill into vibrant habitat, resulting in savings of more than $700,000.
A similar transformation has occurred at a landfill on the base's Site 36. This landfill, most likely originally part of Chickamuxen Creek and a nearby wetland, was used from 1972 to 1974 and has been inactive since that time. The fill material dumped into the creek was believed to contain metal casings from mines, bombs, and torpedoes—not exactly normal working conditions. Cleanup focused on removing scrap metal and potential munitions items from the surface of the landfill and the shoreline. The multi-agency team hauled away more than 57,000 pounds of metal and other materials from the site, with much of it recycled rather than left under the existing soil cover. By taking a common-sense approach to removing this debris, the project managed risk and minimized environmental impacts by maintaining natural habitats, including forests and wetlands, whenever possible, while also ensuring the landfill's soil cover would control pollution. While there is still work to be done, progress abounds elsewhere on the naval facility. For example, the multi-agency cleanup team removed creek sediments contaminated with mercury and surrounding floodplain soils to protect and enhance restoration of habitat along a tributary to Mattawoman Creek. The tributary has been blocked off from the main channel to prevent mercury from getting to Mattawoman Creek, but with the mercury gone, there is now potential for opening up the tributary and reconnecting it with the creek. Naval Support Facility Indian Head occupies a unique place in military history, and thanks to efficient collaboration among federal and state agencies working to clean it up, this locale again provides valuable and healthy habitat for fish, birds, and wildlife along the Chesapeake Bay.