Digging for Data at the Alaska Marine Science Symposium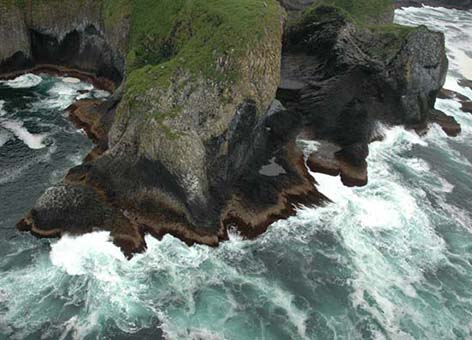 JANUARY 25, 2013 -- As Chief of the Spatial Data Branch in NOAA's Office of Response and Restoration, Dr. Amy Merten's focus is all about data.
In particular, that means figuring out how to access data related to oil spills: the type of information useful for planning before a spill and for the response, environmental injury assessment, and restoration after a spill.
Once Merten and her team get that data, which often comes from other science agencies, universities, and industry, they can then ingest it into Arctic ERMA®, NOAA's online mapping tool for environmental disaster data.
While at the Alaska Marine Science Symposium this week, she has spent much of her time working with experts who provide and manage that kind of data.
For example, the Alaska Ocean Observing System (AOOS) provides real-time and historical coastal data to multiple stakeholders, including NOAA for Arctic ERMA. AOOS is also the host for the newly signed data-sharing agreement [PDF] between NOAA and three oil companies (Shell, ConocoPhillips, and StatOil).
These companies have agreed to share the physical oceanographic, geological, and biological data they have been collecting near areas of Arctic offshore oil and gas activities since 2009. This is an unprecedented amount of data that the industry now is sharing with the federal government and the public. The data are available at www.aoos.org.
NOAA'S Arctic ERMA geographic information system (GIS) expert, Zach Winters-Staszak, attended the Arctic Mapping Workshop sponsored by NOAA partners at the University of Alaska Fairbanks GINA program. Their geographic information network gives NOAA team access to high-resolution base maps, imagery, high frequency radar, ice radar, webcams, and more. Zach was able to learn about new data sets and new ways for pulling high impact data into Arctic ERMA.
Another helpful information source for these NOAA data seekers is NOAA's ShoreZone project. ShoreZone [PDF] is a popular Pacific Northwest dataset of high-resolution aerial videos and photographs of the shoreline in Alaska, British Columbia, Washington, and Oregon at extreme low tide. The photos and videos are augmented with habitat classifications of the different zones along the shoreline, such as salt marsh or kelp beds. The ERMA team already pulls in ShoreZone data layers into NOAA's Arctic and Pacific Northwest ERMA sites.
These data are valuable for preparedness and response to oil spills and for understanding places where oil and marine debris may accumulate naturally. It's especially useful for understanding what the shoreline might look like before going out to survey for signs of oil or marine debris accumulation. It can help responders decide how they are going to access the shore (boat, helicopter, on foot) and what they might expect to find. ShoreZone surveyed the Kotzebue and North Slope regions of the Alaskan Arctic this past summer, which Merten and her team are excited to draw into Arctic ERMA when the photos are available.
Read more about Arctic ERMA and NOAA's plans for this environmental data tool.