Parts of the U.S. Government are closed. However, because the information this site provides is necessary to protect life and property, it will be updated and maintained during the Federal Government shutdown. For critical weather information, please visit
www.weather.gov
. To learn more, see
www.commerce.gov
.
Ferry Fire Near San Juan Harbor, Puerto Rico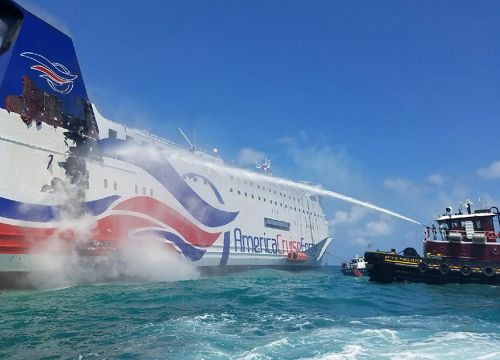 Update: See the August 19 U.S. Coast Guard News Release on this incident. On August 17, 2016, NOAA was notified by the U.S. Coast Guard that the passenger and vehicle ferry Caribbean Fantasy, was on fire and being evacuated just outside of San Juan Harbor in Puerto Rico.
The 561 foot vessel, carrying 512 passengers and crew, was en route to the Dominican Republic. All the passengers and crew have been evacuated and firefighting and salvage efforts are on-going. The fire reportedly began in the engine room of the ship and spread to other compartments on board. There have been no reports of any spills, but NOAA has prepared oil trajectory forecasts, resource maps, and other products in the event a spill does occur. For more information, see the U.S. Coast Guard press release.