Back to top
Get Answers to All Your Questions about Japan Tsunami Marine Debris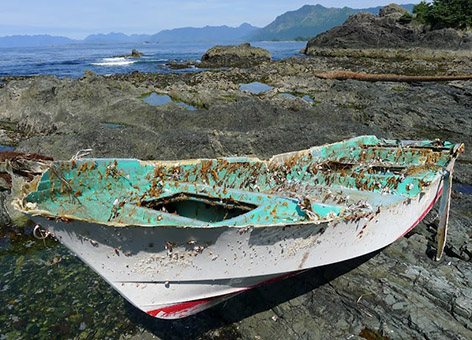 MARCH 5, 2013 -- What happened to the massive amounts of debris swept into the ocean by the tsunami that inundated Japan's coast in March 2011? How much is out there? How has the NOAA Marine Debris Program, a division of the Office of Response and Restoration, been involved? Learn the answers to these questions and more in the following NOAA infographic, documents, and video about Japan tsunami marine debris. Get a visual snapshot of the issue of in our Japan tsunami marine debris infographic [PDF]. Find out at a glance about subjects including what tsunami debris has been found, NOAA efforts to model its path, and the likelihood of debris carrying invasive marine species.

Learn more about the issue of Japan tsunami marine debris with this NOAA infographic. Click to enlarge and download.
Share information about tsunami debris, get tips for cleaning up beaches, and more in our handy brochure [PDF].
Download the video file, shown above, on Japan tsunami marine debris
[MP4, 31 MB]. If you think you have found tsunami debris from Japan, read our
debris handling guidelines
.
UPDATED MARCH 7, 2013:
Thanks to everyone who joined us during our
TweetChat about tsunami debris
with the Office of Response and Restoration's Marine Debris Program Director, Nancy Wallace. She
was available on Twitter
to answer questions about radioactivity, floating docks, and anything else you can think of related to Japan tsunami marine debris.
What: Twitter chat with NOAA Marine Debris Program Director Nancy Wallace

When: Wednesday, March 6, 2013 at 3:00 p.m. ET

How: Tweet your questions to @NOAAdebris using hashtag #TsunamiDebris
Follow the archive of the conversation via the hashtag #TsunamiDebris on Twitter.