Government of Japan Gifts NOAA $5 Million to Address Tsunami Marine Debris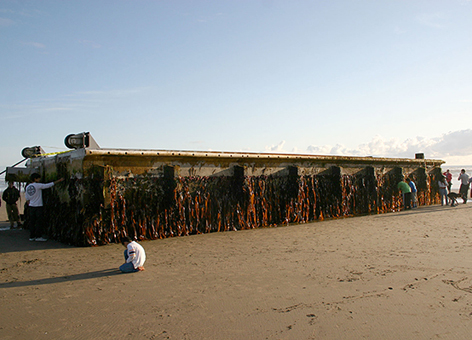 DECEMBER 4, 2012 -- On November 30, 2012, the Government of Japan announced a gift of $5 million to the United States, through NOAA's Marine Debris Program, to support efforts in response to marine debris washing ashore in the U.S. from the March 2011 earthquake and tsunami in Japan.
The funds will be used to support marine debris response efforts, such as removal of debris, disposal fees, cleanup supplies, detection and monitoring. NOAA anticipates distributing funds to affected regions as the funds are received from Japan and will work to determine immediate needs and plan for future applications.
Since the disaster, NOAA has been leading efforts with federal, state and local partners to coordinate a response, collect data, assess the debris, and reduce possible impacts to natural resources and coastal communities.
Debris from the disaster has drifted across the Pacific and reached shorelines in the U.S. and Canada. In July, NOAA provided $50,000 each to Alaska, Hawaii, Washington, Oregon, and California to support response efforts.
Items from the tsunami that have drifted to U.S. shores include sports balls, a floating dock, buoys, and vessels. Mariners and the public can help report debris by emailing DisasterDebris@noaa.gov with information on significant sightings.