Help Avert Disaster with CAMEO Chemicals for Your Smartphone
SEPTEMBER 25, 2012 -- Picture this: a call comes in to a fire station—three train cars have derailed. As the responding firefighters race to the scene, news comes over the radio that several chemical containers on board were damaged, some may be leaking their hazardous contents, and somebody mentioned smelling smoke. What should the approaching firefighters do? Fortunately, first responders now have a new place to find the critical information they need in this situation: their smartphone. NOAA's Office of Response and Restoration recently launched a mobile website version of CAMEO Chemicals, an essential resource for emergency responders. Because no one could possibly memorize response recommendations for the thousands of hazardous materials shipped across the U.S. or stored in facilities, we developed CAMEO Chemicals as a searchable chemical response encyclopedia.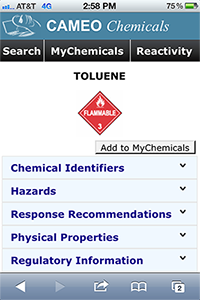 This kind of quick access to information about a chemical is critical. A hazardous material incident can escalate quickly and, in the case of some toxic gas clouds, can cause harm and then dissipate within minutes. Because of these factors, responders need to be able to find specific information, for example, whether the spilled chemical will react violently with water. Will it spontaneously combust? What happens if it's exposed to fire? And they need to know all of this at a moment's notice. When time is of the essence, having multiple avenues to this key information can be invaluable. Most hazmat fire trucks carry print copies of response guides, such as the Emergency Response Guidebook, and many also roll with a laptop onboard with special software installed. One of those software products is our suite of programs called CAMEO, which includes CAMEO Chemicals and also the mapping application MARPLOT. CAMEO Chemicals combines a number of data sources, including the Emergency Response Guidebook. The U.S. Environmental Protection Agency and NOAA have been partnering to keep this tool updated since the first version was installed on a Macintosh Plus computer and bolted to a table on a hazmat fire truck back in the 1980s. (Actually, our office first created a Microsoft DOS version—but then switched to Macintosh, because Apple's then-new concept of using a mouse to navigate a computer seemed like the perfect, easy-to-use solution for firefighters.)
The cutting-edge Macintosh SE—on a fire truck near you! This successor to the Macintosh Plus loyally served CAMEO programmers for years. (NOAA)
Having CAMEO Chemicals installed on a laptop computer can be crucial if, say, you are responding to an area hit by a tornado and there is no internet connection or cellular service available. But getting software installed by information technology staff can be difficult for some organizations, as is keeping it up-to-date. As a result, we released an online version of CAMEO Chemicals in 2007. Having it available on the web means anyone—such as a police officer—who is suddenly responding to a chemical accident can get this information on the fly. This year, with the rising ubiquity of smartphones, the time seemed right to release a version of the website customized for mobile devices. Now, as of August 2012, a first responder with nothing more than a phone (with access to the Internet) can navigate thousands of chemicals with just the swipe of a finger. A student from the nearby University of Washington joined our team in Seattle, Wash., and developed this mobile version of the CAMEO Chemicals website over the course of the summer. Thanks to him (and the EPA and NOAA, of course), emergency responders now have one more tool to add to their toolbox.