Parts of the U.S. Government are closed. However, because the information this site provides is necessary to protect life and property, it will be updated and maintained during the Federal Government shutdown. For critical weather information, please visit
www.weather.gov
. To learn more, see
www.commerce.gov
.
How Do You Solve a Problem Like Abandoned Ships?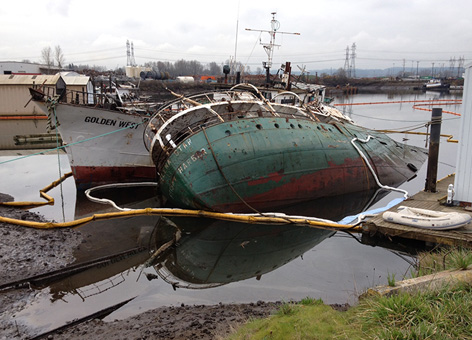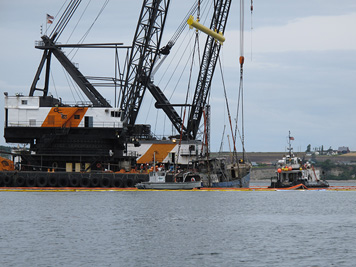 FEBRUARY 12, 2014 -- A rusted green hull, punched full of holes and tilted on its side, sits forlornly in the Hylebos Waterway of Tacoma, Washington. The dilapidated boat's name, Helena Star, is partially obscured because the vessel is half sunk. The boat it is chained to, the equally rusted ship Golden West, is being drawn down into the waters with it. Bright yellow boom and a light sheen of oil surround the vessels. Meanwhile, the owners are nowhere in sight. This is just one example of the nationwide problem of derelict vessels. These neglected ships often pose significant threats to fish, wildlife, and nearby habitat, in addition to becoming eyesores and hazards to navigation. Derelict vessels are a challenge to deal with properly because of ownership accountability issues, potential chemical and oil contamination, and the high cost of salvage and disposal. Only limited funds are available to deal with these types of vessels before they start sinking. In Washington's Puget Sound alone, the NOAA Office of Response and Restoration's Emergency Response Division has had several recent responses to derelict vessels that either sank or broke free of their moorings. Many of these recent responses have come with colorful backstories, including a pair of retired Royal Canadian Navy vessels, a fishing boat that at one time housed the largest marijuana seizure by the U.S. Coast Guard (F/V Helena Star), the first American-designed and –built diesel tugboat (Tug Chickamauga), and the boat that carried author John Steinbeck and biologist Ed Ricketts on their famous trip through the Sea of Cortez (Western Flyer). Unfortunately, all these vessels have met the end of their floating lives either through the deliberate action or negligence of their owners. Had the owners taken responsibility for maintaining them, the environmental impacts from leaked fuel, hazardous waste, and crushing impacts to the seabed could have been avoided, as well as the costly multi-agency response and removal operations that resulted. Yet there is hope that we can prevent these problems before they start. In Washington state there is momentum to combat the derelict vessel issue through measures to prevent boats from becoming derelict or environmental hazards, and by holding vessel owners accountable for what they own. Washington State House bill 2457 is currently in the Washington State Legislature. Among other measures, the proposed bill:
"Establishes a fee on commercial moorage to fund the state's derelict and abandoned vessel program."
"Creates new penalties for failure to register a vessel."
Additionally, Washington's San Juan County is developing a new Derelict Vessel Prevention program, using a grant from the Puget Sound Partnership. San Juan County, a county composed of small rural Pacific Northwest islands, has a high number of derelict vessels [PDF]. This program is going to be used not only in San Juan County but throughout counties bordering Puget Sound. On January 15, 2014, Washington's Attorney General Bob Ferguson and Commissioner of Public Lands Peter Goldmark (who leads the Department of Natural Resources) announced the state was pursuing criminal charges against the owners of the Helena Star, which sank in Tacoma's Hylebos Waterway, and the Tugboat Chickamauga, which sank in Eagle Harbor. Both vessels released oil and other pollutants when they sank. It is an ongoing battle to hold accountable the owners of derelict and abandoned vessels and prevent them from causing problems in our nation's waterways. Yet with cooperation, prevention, and increased accountability we can help manage the problem, and in the end reduce impacts to Washington's cherished Puget Sound. Read more about how our office is working with Washington's Derelict Vessel Task Force to tackle this growing problem in Puget Sound.