Japanese Dock Lost in 2011 Tsunami Removed from Washington's Olympic Coast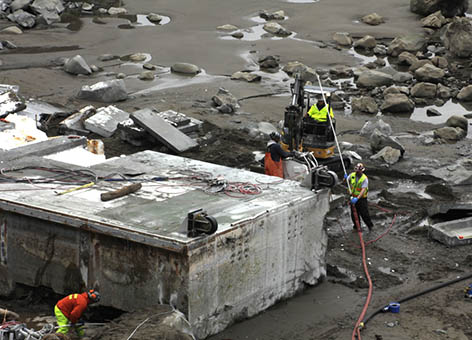 APRIL 5, 2013 -- A large Japanese dock swept across the Pacific Ocean after the March 2011 tsunami has now been removed from Washington's Olympic Coast. Cleanup workers from the Washington-based contractor, The Undersea Company, carried off the last of the now-deconstructed dock's concrete and plastic foam from the beach where it washed ashore. Removal work, which occurred inside Olympic National Park and NOAA's Olympic Coast National Marine Sanctuary, began on March 17 and concluded March 25, 2013. You can watch a time-lapse video of the dock's removal (and related videos):
"This operation was challenging—imagine opening up a 185-ton concrete package filled with foam packing peanuts while standing near a helicopter on an extremely remote coastline," said John Nesset, president and C.E.O. of The Undersea Company, in a NOAA press release.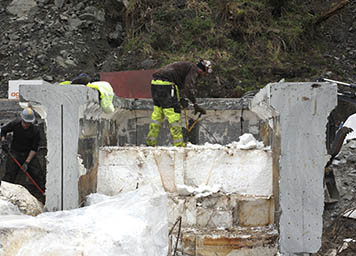 The dock, weighing 185 tons and measuring 65 feet in length, initially stranded on the Washington coast last December after it and two other docks were torn away from the Port of Misawa, Japan, during the Great East Japan Earthquake of March 11, 2011. In previous posts, NOAA mentioned that this dock and the one found near Newport, Ore., in June of 2012 were among four docks washed away from Misawa—but we now know that only three docks left the port. The Consulate-General of Japan has alerted us that "earlier news reports erroneously stated that a fourth dock was located on an island in Japan." The NOAA Marine Debris Blog expands further on the whereabouts of the docks: "According to the Consulate-General of Japan, three of the four floating docks located at the Misawa Fishing Port washed away when the tsunami struck. Fishermen reportedly spotted the third missing dock floating near Oahu, north of Molokai, in Hawaii in September. It has not been located since." An interesting aspect is that these three docks were wrenched away from the same port in Japan at the same time during the tsunami in March of 2011.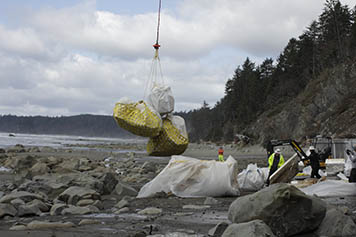 March 18, 2013 -- The remoteness of the location where the Japanese dock beached required a helicopter to lift loads of foam taken out of the inside of the deconstructed structure. (National Park Service/John Gussman)
Yet, as NOAA oceanographers know quite well, predicting where the Pacific Ocean's currents and winds might carry and eventually deposit them (and when) is a tricky task. So far, "one washed up on Oregon's coast last summer, and a second beached along Washington's coastline in December," pointed out Asma Mahdi of the NOAA Marine Debris Program. "Two identical debris pieces that left Japan's coast at the same time made the journey across the Pacific, but they ended up on the U.S. West Coast six months apart and in very different locations. How can we predict where marine debris will end up?" You can gather some insight into these complexities in the latest Diving Deeper podcast from the National Ocean Service. Sherry Lippiatt, the NOAA Marine Debris Program's California Regional Coordinator, discusses how objects in the ocean are navigating a dynamic environment, which can affect everything from a plastic bottle to a floating dock. Listen to the podcast here: https://oceanservice.noaa.gov/podcast/mar13/dd032813.mp3